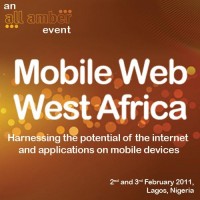 Mobile Web West Africa will hold at the Eko Hotel & Suites, Victoria Island, Lagos, Nigeria from February 2-3, 2011 starting from 8am.
Mobile Web West Africa is the third in a series of mobile web conferences organised by All Amber Ltd around Africa and is focused on expanding the mobile ecosystem and harnessing the potential of the internet and applications on mobile devices.
The event will feature an Interactive Roundtable Seating Format and therefore it would be great to have you in the delegation at the conference interacting with your peers and helping shape the future direction of the evolution of data usage and services.
1) Registration for the event has started, and:
If you book on before the end of 2010 you can save N24,000 / £100 per delegate. After that date the prices will rise. (Get 15% off with promo code: ConnNig)
If you run a Start-Up company, are a mobile developer, work for an NGO or an Academic Institution then there are a certain number of tickets available with a 50% subsidy – but you do need to apply for them. Find out more here: http://www.mobilewestafrica.com/developers-and-startups.html
2) We are looking for Sponsors, Exhibitors and Partners for the event – so if you want to explore the benefits of connecting with the people who are leading the mobile sector in West Africa please do get in touch with me: http://www.mobilewestafrica.com/event-partners.html
3) We are running a Mobile Application Developer Competition at the event with InMobi, which currently has a $1500 prize and means you get to attend one day of the event for free, so if you're a Developer click here to find out more: http://www.mobilewestafrica.com/developers-and-startups/enter-the-appcircus.html
4) Seating capacity at the event is strictly limited to 150 people
Contact: Email: info [at] allamber.co.uk
Website: http://www.mobilewestafrica.com