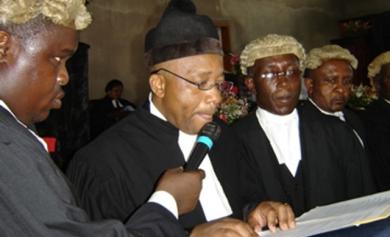 Some lawyers yesterday blamed the controversy generated by the planned introduction of non-interest banking to Nigeria on the Central Bank Governor, Mallam Sanusi Lamido Sanusi.
A former President of the Nigerian Bar Association, Mr Olisa Agbakoba (SAN), and an Enugu-based lawyer and politician, Chief Maxi Okwu, said that Sanusi approached the issue wrongly.
In separate interviews, the lawyers told the News Agency of Nigeria (NAN) in Lagos that non-interest banking was good but was not presented properly by Sanusi.
Agbakoba added that the CBN governor did not tackle the controversy in time.
"The CBN ought to have communicated the process better to Nigerians.
"The issue of Islamic banking could have been better received by Nigerians, if the apex bank tackled the misconceptions from the outset.
"The majority of Nigerians, especially Christians, interpreted it the way it suited them and this could have been avoided," Agbakoba said.
The former NBA president said that non-interest banking had many advantages.
"I am a Christian but I will open an account there once it kicks off,'' he said.
In his reaction, Okwu said that Nigeria did not need the controversy in view of recent security challenges.
"The CBN governor should have known that with the security situation in Nigeria over Boko Haram and past experiences with Sharia, any programme with Islamic connotation will create such a controversy," he said.
Okwu pointed out that Sanusi should have referred to the issue as non-interest banking instead of Islamic banking, to suit Nigeria's diversity.
However, social critic and lawyer, Mr Bamidele Aturu told NAN that the controversy was uncalled for.
He said that those fuelling the controversy were causing confusion for Nigeria.
He noted that such non-interest banking was not compulsory for any citizen.
"Those against it have the option of banking with the regular banks," Aturu said.