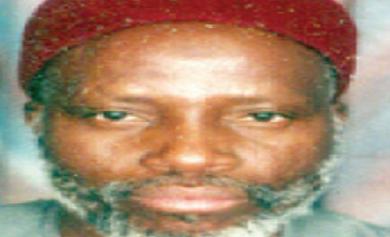 An Abuja-based Islamic scholar, Shaykh Ibrahim Kanti Zuru has lent his voice to the call on federal government to engage sect members of the Boko Haram in dialogue, pointing out that, the current Ramadan season offers a wonderful opportunity to achieve peace. He spoke with SULEIMAN U. ABDULLAHI on this and sundry issues. Excerpts:
The spate of killings, especially in some parts of Northern states is gradually assuming a frightening dimension. As an Islamic scholar, what is your advice to the government?
The political crisis that recently engulfed some Northern states in the post-election violence and the Boko Haram saga that has now sprung up have all led to dire consequences on the socio-economic and political landscape of the nation. There has been a breakdown of law and order, innocent lives have been lost and properties destroyed. I am of the opinion that government should acknowledge the gravity of the problem so that peace can return to the affected areas. The present situation in the country is very traumatising. Islam is a religion of peace, it is a universal civilization and a way of life. Islam as a religion does not condone violence, it is a religion that preaches tolerance, understanding, humility and brotherhood. As such, people should not use religion to fan the embers of distrust and suspicion. Religion should be used to unite the people and not to unleash violence on society.
What is the way out?
The way out is dialogue. Government should engage in constructive dialogue with the Boko Haram sect. Anything to the contrary or any action not geared towards dialogue may not produce the desired results. We need peace in this country if we must attain economic prosperity and political stability.
As an Islamic cleric, what has been your role in that direction?
I have been preaching peace among my Islamic brethrens, including Christian elders. Last week, I was in Zamfara State where I met with the state chapter of the Christian Association of Nigeria (CAN) to address sensitive issues that borders on peaceful co-existence and security. We had a very cordial and rewarding engagement at the end of which it was resolved that dialogue is the only way to stem the violence.
We must understand that government alone cannot do this, which is why I am calling on religious leaders of both faiths to continue to preach peace and mutual co-existence in the country. It is also important for religious leaders to guard against some of their utterances so as not to sow the seed of discord among the people.
You mentioned the meeting you had with CAN members in Zamfara. What was the level of co-operation you received?
As I earlier stated, we had fruitful and successful deliberations and at this point, I will like to commend the national secretariat of CAN in Kaduna for supporting the peace initiative and also the CAN leadership in Zamfara for the honour in allowing me meet with them. Let me also state that my meeting with the Christian leaders in Zamfara is the first of a series of nationwide peace initiatives designed to promote peace in the country, especially in the Northern states. We have finalised arrangements to engage both Muslim and Christian leadership in Kaduna and then from there, we'll move to the other states of the country.
Some prominent citizens of Borno under the aegis of Borno Elders and Leaders of Thought (BELT) recently called on President Goodluck Jonathan to order the immediate withdrawal of troops in the area. What is your take on this?
We must understand first of all why soldiers had to be drafted to the area. We should also ask ourselves if total peace has been restored to Borno and the other troubled spots. The elders who are calling for the withdrawal of troops appear to be justified because of some extra-judicial killings in those areas. I do not subscribe to extra-judicial killings, I do not believe that lives should be wasted unnecessarily in order to fish out criminals in our midst. Having said this, I think the call for the withdrawal of troops by the Borno elders is a little bit premature. We still need the troops in all the troubled zones until total and not just marginal peace is restored. And this is the reason why some of us who are working with the President have decided to go round the country to preach our message of peace and love for the entire mankind.
How soon do you believe peace can be restored to such troubled areas like Borno, Zamfara, e.t.c.?
Peace is gradually returning to those areas, especially with the setting in of the Ramadan season. This holy month of Ramadan is a good period for government, religious leaders, political leaders and other stakeholders to come together and dialogue on the way forward. As a strategy toward ensuring lasting peace in the area, I suggest that government should pay compensation to all victims of the recent crisis with immediate effect. A committee should also be set up, a database of all the victims collated and compensation paid to them or their families immediately.
Also, as a way of winning the hearts and minds of the people, the security personnel should be issued with a code of conduct or rules of engagement to be monitored strictly by independent observers. Hotlines should also be provided for the lodgement of complaints of excesses by security personnel.
The idea of an Islamic banking system for the country appears to be generating controversy. As an Islamic leader what is your view?
You see, the Islamic banking system is not a new product, in fact it was first introduced over 35 years ago and now operates in over 75 countries of the world, including the United States of America, the United Kingdom, Luxembourg, Malaysia, Singapore, including some African countries like Uganda, Senegal, Kenya, Gambia, e.t.c. So you can see, it is not a completely new package. Also, from the point of view of religion, both Islam and Christianity condemn usury which is lending of money accompanied by an unregulated interest regime. Islam certainly frowns at interest banking and supports non-interest banking system which has to do with the sharing of risks and profits by both the lender, i.e. the bank and the borrower.
But what are the direct gains or benefits for us as a nation?
Yes, it will have direct impact on the banking industry efficiency and cost structure as it will reduce the cost of cash to the financial system through significant savings that would be passed on to the customer in the form of reduced cost of banking services and lower lending rates to borrowers.
We should also understand that at this stage of our development as a nation, there is need for a noble alternative to interest rate credit banking. I think non-interest banking or profit sharing banking is the way to go. I will like the Central Bank of Nigeria to develop a clear strategy for its commencement, however public enlightenment on the issue is really very important.
?