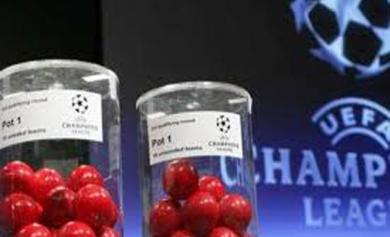 The draw of the 2011-2012 Champions League was held on Thursday and it threw up some interesting groupings. All 32 teams will be looking to finish in the top two and advance to the knockout stages, but while the draw has been kind to some, it has been unlucky for others.
The following is a quick analysis of all eight groups, with a prediction of the final standings of each group.
Group A: Bayern Munich, Villareal, Manchester City and Napoli
This is undoubtedly the Group of Death and certainly one of the best groups in the competition's history. All these four teams are top-quality teams, more than strong enough to be in the knockout stages of the competition. However, two of these great teams will not progress any further in the competition, which, on the one hand, is a shame but on the long run, will provide a very exciting group.
Most people would probably tip Bayern Munich and Manchester City to advance, but City's lack of experience in this competition and Bayern's injury prone stars might impact negatively. Napoli and Villareal are no pushovers; they both have plenty of quality players. ?
The key to winning this group will be to rack up points at home. If teams can't take advantage of playing at home, they might as well give up on advancing. This group will be very tight and advancement will probably be decided in the last day.
?
Group B: Inter Milan, CSKA Moscow, Lille and Trabzonspor
This group has nowhere near the quality of Group A, but it's also a tight group. Inter should definitely be able to advance, but it's hard to guess who of Lille and CSKA will get the other berth. Even Trabzonspor have a decent outside chance.
The only thing that seems sure in this group is that Inter will advance; the remaing spot will be pretty much up for grabs.
Group C: Manchester United, Benfica, Basel and Otelu Galati
This group seems a lot easier to predict. It'd be a huge surprise if Manchester United and Benfica didn't advance to the knockout stages. The quality of their squads is very superior to Basel and Otelu's. Barring any upset, Manchester United should comfortably win this group, with Benfica coming in second.
Benfica are a good team (good enough to advance), but they don't look able to compete with last year's finalists.
?
Group D: Real Madrid, Lyon, Ajax and Dinamo Zagreb
Real Madrid and Lyon have been drawn together yet again, for what seems like the umpteenth time these two clubs will face each other in this competition. On paper, the Spanish giants should have little problem winning this group; they're considerably stronger than all their group members. It'd be a shock if they didn't win the group comfortably.
The fight for second place will be a lot more exciting, with all three other teams having a chance, although Lyon are the obvious favorites. Dinamo Zagreb are a very difficult team to beat at home; they'll need to make that advantage count if they wish to progress.
Group E: Chelsea, Valencia, Bayer Leverkusen and Genk
This group has three very good teams in Chelsea, Valencia and Bayer Leverkusen, all with the potential to advance. Genk clearly seem as the weak link here, but they'll have a role to play in determining which of the other three teams advance.
Valencia might have lost Juan Mata to Chelsea, but they're stronger than last season, Bayer Leverkusen seem a bit weakened with the loss of Arturo Vidal but remain competitive, while Chelsea have got sweat merchant André Villas-Boas and splashed millions to strengthen their squad.
All three teams have a very decent chance to advance and it should probably be decided in the last day. The highlight of the group will be Juan Mata's return to the Mestalla to face his former team.
Group F: Arsenal, Marseille, Olympiakos and Borussia Dortmund
It'd be an understatement to say Dortmund were lucky. Despite being in Pot 4, they got a fairly easy group, with the weakest team in Pot 1 and two other teams that they shouldn't have much trouble to overcome.
Dortmund are clearly the strongest team in this group and should have little trouble winning it. The German champions might be a very young and inexperienced team, but their quality should shine through. Expect the likes of Mario Goetze and Kagawa to shine very brightly.
The fight for second place should be tight, but Arsenal have the advantage. Despite being a lot weaker than in seasons past, their experience in this competition should be enough to send them through in second place.
?
Group G: Porto, Shakhtar Donetsk, Zenit and APOEL Nicosia
FC Porto also had a relatively easy draw. The Portuguese champions should have no trouble advancing to the next stage, along with Shakhtar Donetsk. Zenit are a good team, but it'd be a surprise if they could beat either Porto or Shakhtar, who are both among the best teams in the continent.
APOEL will probably not be able to avoid last place. In theory, Porto and Shakhtar should have little problem advancing to the knockout stages
Group H: FC Barcelona, AC Milan, BATE Borisov and Viktoria Plzen
The defending European champions got a very easy group on paper. This must be the most predictable group in this year's competition.
The only thing that doesn't seem clear is who of BATE and Plzen will advance to Europa League. It seems pretty much certain that Barcelona will win the group with AC Milan coming second. It'd be a tremendous shock if these two teams didn't comfortably advance to the next stage.
This draw will allow Barcelona flop, Zlatan Ibrahimovic to return to Camp Nou on September 13, where he will be given a chance to show up his former employers. At the risk of being proven wrong, this group should be a walk in the park for Barcelona and AC Milan.
?