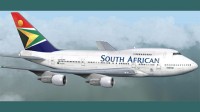 Last month, the world football authority FIFA said it was now expecting around 450,000 foreign fans to travel to South Africa – down from initial estimates of one million. It said they were partly put off by the cost of flying to South Africa especially from Europe.
In South Africa, six South African airlines – Comair (a British Airways franchise), South African Airways (SAA), 1time, Airlink, SA Express and Mango are being investigated for allegedly colluding to hike fares for local flights during the football World Cup in June.
Two years ago BA was fined £270 million by the British and American authorities after it admitted "anti-competitive activity" involving fuel surcharges on long-haul flights.
And In 2006, SAA was slapped with a R55-million fine after it was found guilty on three charges of anti-competitive behaviour, including one of price-fixing with German carrier Lufthansa.
Well all these are not new…Africans in Diaspora, especially Nigerians, are always being ripped off by BA, Virgin, SAA and other European Airlines when travelling home to visit families in Africa. Aside the inconvenience of having to pay for your tickets at some Airline offices under the guise that some countries in Africa are "fraud prone"etc.
The lowest economy return fare for direct flights to Africa between the 1st and 22nd March this year costs £ 519.00 by BA and £755.40 by Virgin for a six-hour flight to Lagos. At the same period, a nine- hour flight to New York, will only cost you £ 329.50 on BA and £313.50 on Virgin Atlantic.
Also the cost of an economy return for an eleven-hour flight to Cape Town, BA cost £ 769.40, Virgin cost £755.40, and SAA  costs £683.70.
Now some England fans are moaning that they will have to splash out about £6,399 each if they follow the team through to the World Cup final in South Africa this summer. 
NewsPulse says live with it, cos we Africans have been putting up with it for a long time. Whatever is good for the goose should also good for the gander, innit?
Do you have plans to travel to SA for the World Cup?  what do you think now of the flight prices?