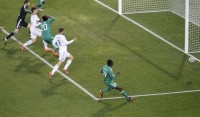 NewsPulse today decide to sample opinions of Nigerians about the news that President, Goodluck Jonathan has pulled the country's football teams out of International Football competition for two years.
The media are divided, while some questioned the decision, others hailed it as a welcome relief and 'good riddance' to the NFF.
But, mostly Nigerians had little sympathy for the disgraced national soccer team, saying their two-year withdrawal from international competition was well-deserved punishment for their embarrassing showing at the World Cup.
Let me share a feedback by one of our readers below:
" Well two years of exile? I strongly feel that there are other ways of stopping the current FA members from running the FA and bring the right set of people in, other than suspension, will self imposed exile stop corruption in the Nigerian League, what about the infrastructure what about the bribery and unprofessional atitute of Nigerian players, what about the people who takes over , the players discovered how do u expose them to international competitions.

The suspension means we will miss out of the 2014 World Cup because the qualifiers starts next year,no doubt the current FA are corrupt and inefficient but the FG was there when the court could only issue a fine to the officers who stole the money in the FA What is the ICPC and EFCC doing. Was there any Nigerian that courageously come out and formally petition the ICPC or EFCC.

What about the state FA what has being their contributions to Nigeria Football.

The moribound school sports where most of our past stars were discovered what is happening to them now? will suspension bring them back if something concrete is not done what about the private schools that against the rules do not even have sports grounds for talents to be discovered What about the infrastructure that are obviously missing.These are issues that required serious policy shift by government. It will surely take more than international exile to solve all these problems but serious government will power.

We all remembered what we missed missing 2006 FIFA world cup during the era of Galadima have u forgotten how so many of our colleague supported these people against Galadima when he told us world cup is not our birth right.

Again I strongly agreed that these are not the best set of administrators that we desire for our sport but are their no other way(s) to get rid of them other than killing the dream of some young Nigerian talents.

The question is how did these people got their in the first instance? were they not government nominees who got the support of people in government and and even the press. Let them face the consequences of drawing the game backward but not to draw us back again by banning us from international competitions

With this am sure die-hard Nigerians will be forced to look elsewhere and the likes of English Premier League will enjoy more follower ship.I don't think any country has done that in the past although same solution may not be applicable to same problem

Why must it be the PTF taking charge now? Has it not justified the claim by those people that the PTF are after thier job May God help Nigeria,

Nigeria deserve the best and definitely the suspended FA member have not given us so they do not deserve to remain in that position but surely the big stick wielded by the FG is too much and may not bring the desire results " Eniola Afolabi.

So do you think Mr President is right or wrong on this one? Have you say below: