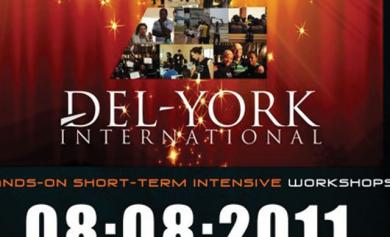 Del-York International is partnering with the prestigious New York Film Academy (NYFA) to host another four-week filmmaking training programme in Nigeria. The programme will run from? August 8, to September 3, 2011 at a prime facility in Badagary, situated in the vibrant city of Lagos.
The event will mark the second annual edition of a five-year collaboration between NYFA and Del-York International, a leading media and communications company that is committed to transforming Nigeria's creative industries by delivering world-class media consultancy and capacity-building services.
The inaugural training programme was held in March 2010, when Del-York International and NYFA successfully hosted and trained 400 African students in Abuja. Out of these graduates, 122 are now gainfully employed in the entertainment sector. Recognizing the programme's cultural and economic importance, the Rivers State Government and the Niger Delta Development Commission (NDDC) sponsored 120 and 250 students respectively.
This year, the programme seeks to increase its turnout by over 100% and train 1,000 youths. The NDDC will collaborate with the programme for the second time to cover tuition fees for 250 students.
Other high profile bodies that have agreed to support what is undoubtedly the most intensive, hands-on film training program in the world include the Edo State Government, which will sponsor 18 indigenes to attend the programme. In addition, the ministry of education will sponsor another 50 students.
Also, 60 instructors from NYFA's New York and Los Angeles campuses, including Hollywood practitioners, will instruct this year's students in various filmmaking techniques. The training program will offer 14 workshops: Filmmaking; Acting; Directing; Final Cut Pro; Digital Photography; Cinematography; 3-D Animation; Producing; Screenwriting; Broadcast Journalism; Costume Design & Make–up; Set Design; Graphic Design & Special effects and Music Video Production.
According to Del-York International managing "director/CEO, Linus Idahosa. "The face of filmmaking in Africa has begun taking shape rapidly. Thus, the need for aspiring filmmakers to be better equipped with the knowledge of telling the African story beautifully is imperative and this four-weeks training programme will provide students with the opportunity to gain hands-on experience that will enable them to efficiently create strong films, sophisticated enough for international distribution."
Producer of Celebrity Takes 2 and Del-York/NYFA Training Program 2010 graduate,Deji Ajose-Ojikutu says, "having worked on the crew of some of the top TV shows in Nigeria, my expectations were very high when I decided to undertake this programme. However, the quality of knowledge impacted in me surpassed my wildest imagination,"
The training programme seeks to inspire future visual storytellers to use the African film industry to increase a better understanding of African culture globally. In addition, it aims to develop a wider, non-African audience for our cinema by expanding the opportunities for hands-on training and film distribution internationally.?