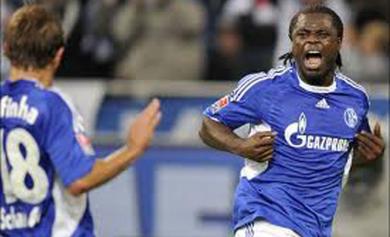 Gerald Asamoah certainly has had a storied career to look back on. Not only does he have a FIFA World Cup runners-up medal from 2002 and two German Cup trophies, he also won 43 caps for his country and made 300 Bundesliga appearances. And who can forget the part he played in the fairy-tale summer of 2006, when Germany finished third at that year's FIFA World Cup on home soil?
And yet despite all that, the 32-year-old has not always had an easy time of it during his 15-year career, primarily due to factors unrelated to his performances. Football may be the beautiful game, but it can also have an ugly side to it, particularly when racism and discrimination are involved.
Achieving acceptance
Asamoah, an African born in Mampong in Ghana, has had to put up with more than his fair share of those twin evils since moving to Germany over 20 years ago. He began his career in Hannover before proving his worth at Schalke, where the fans really took him into their hearts. He wrote his name in the history books in 2001, when he obtained a German passport and promptly became the first African to play for the three-time FIFA World Cup winners. His decision to play for Germany was partly motivated by the hope that he could "maybe achieve something", namely that "one or two people might accept the fact that a black guy can also do something good for Germany", he said at the time.
That FIFA, world football's governing body, has long been committed to the fight against racism and discrimination is something Asamoah, a committed Christian, thinks is only right and proper. "If there's something extra that you can do then you should do it. It is obviously nice when you see that a lot has already been done, but it just keeps on coming back." The struggle does finally seem to be paying off, however, and compared with how it was in the past, some things have changed – for the better. "There are still people though who refuse to accept this, and that is what we have to fight against. We need to try to win those kind of people over."
In critical situations, it is his "belief in God" which helps him through, Asamoah explained in an exclusive interview with FIFA.com. "When you hear or you find out that something else has happened, you start to ask yourself, 'why it is that some people don't want to accept that we're all human beings, regardless of the colour of our skin or our origin'. You have to try to accept every person. It's just so disappointing that certain attitudes continue to be found."
Social commitment
At the FIFA World Cup on home soil in 2006, Asa was already hoping he would be able to use the opportunity to break down certain prejudices. "There were a lot of foreigners in Germany, and everything went really well," he said.
But the struggle continued and indeed continues today, and Asamoah knows that he has a role to play in this respect. Back in 2005 he let his support to the "You are Germany" media campaign, and his commitment also stretches to creating his own foundation for children with heart disease and helping the international social charitable organisations ora international and World Vision.
Last year, which in footballing terms was very much Africa's year, was also an important milestone, with the world focusing on South Africa as the FIFA World Cup was held on the continent for the first time. "All eyes were on Africa to see whether an event of such magnitude could be arranged and organised there, and it was clear for all to see that it worked – and very well. The hope now after the event is that there will be plenty more World Cups to come in Africa. Beforehand a lot of people knew very little about Africa, but the World Cup helped to provide a lot of information. We still hope that interest will continue to grow."
Future
Hopes are high that the 2010 FIFA World Cup will continue to have a positive effect – a sentiment shared by Asamoah who, like the rest of the footballing world, is firmly behind the fight to stop racism and discrimination. And getting the message through to the few people who still persist with these prejudices should be the aim for the future, the 32-year-old told FIFA.com.
Asamoah's footballing future is uncertain at the moment. He suffered a setback this year when his team, the popular Hamburg-based outfit St. Pauli, failed to avoid relegation back down to Bundesliga 2. "I am obviously very disappointed, and when you look at the circumstances behind our relegation it is even more disappointing, since we had every chance of staying up. It is a new experience for me personally, and it's something I have to come to terms with. I haven't made my mind up yet about what I am going to do. I need to think about it first and then see what's what.
There is no point in coming to a snap decision; it is all about taking the time to think it through."
Despite the obvious disappointment of relegation, the sturdy striker remains optimistic about the future and is sure to be enjoying his football again next season, wherever that may be.
?