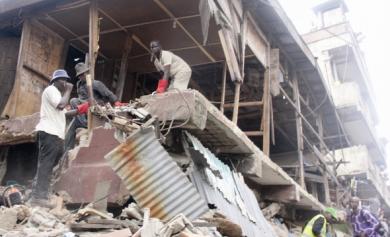 The death toll in the four-storey building collapse at 4, Mogaji Street, Idumota/Ebute-Ero area, Lagos Island on Tuesday night has continued to increase, largely due to the distortion in the physical planning of the area that has made immediate evacuation impossible.
As at the last count, 15 people were reported to have been killed in the collapse, with many others yet unaccounted for.
A community leader who identified himself as Mr. Ayeni, told LEADERSHIP at the site that many of the occupants of the lower part of the building were still trapped, with most of them presumed dead.
He said, "About 60 people live in this building. There are still a lot of people trapped on the ground floor. Evacuation has not been possible here because there is no way heavy tractors and excavators can get to this place, unless you demolish these other buildings. What we have been doing is to rely on general implements to rescue people. I have been here day and night and we have recovered 15 dead bodies."
A survivor, named Michael, who came to search for his belongings, told our correspondent that he narrowly escaped death in the ill-fated building, being rescued when his rechargeable torchlight that was switched on when the building collapsed was sighted.
"It was God that saved my life. Those who rescued me said they saw my rechargeable torchlight on as they were searching for survivors. I had already given up the battle. It was a bad experience."
As the casualty toll increases, the Lagos State commissioner for Information and Strategy, Mr. Remi Ibirogba, blamed the delay in the rescue operation on the distorted physical planning of the commercial district, saying that the state government had confiscated the property.
He said, "A lot of people have built structures in such a way that it will be difficult for easy evacuation to be done. Simply put, that is not the problem of the government. Nigerians have to take it that selfishness is not the name of the game now. Everybody that must live must live well and must not be selfish.
"Nigerians want to erect good buildings, but they want to manage building materials, beat quality at the expense of other people. That is not the problem of the government. The state government has begun to counsel property owners in the state. But they fail to come to the government because they want to maximise profit."
Ibirogba, who assured of the state government's resolve to continue to sensitise people on the issue, said that the government is not happy with the incident, adding that government would not fold its arms and allow some selfish individuals to destroy others.
"We also advise them that as long as they try to maximise profit by using inferior materials, they are endangering the lives of other people. The issue of building collapse in the state is a cycle. It is for everybody to make sure that the right thing is done and to make sure that they do not harm anybody, because they want to make profit from the buildings they erect.
"While inspecting the building, we discovered that all that should have been done legally, someone somewhere circumvented that, because he wanted to make money from what should have been corrected. Our people need to understand that there is no need trying to manage building materials and trying to beat government's trap," he added.