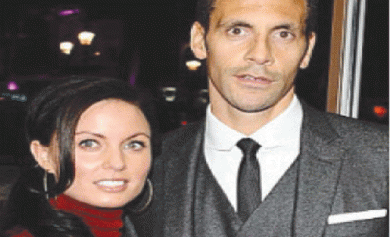 A stripper, a topless model and a Pop Idol hopeful were among those said to have romped with Manchester United and England defender, Rio Ferdinand.
Married dad-of-three Ferdinand, 32, is suing over a Sunday newspaper story about an affair with an interior designer.
?
The list of Ferdinand's lovers was given to a judge – with enough for the defender to field a women's soccer team if he also roped in his wife.
The names of 10 girls who claim they had been bedded by the randy defender were revealed by lawyers, portraying him as a shameless love cheat.
At least seven have said the 'Red Devils' defender romped with them while he was going out with Rebecca Ellison – now his missus and mother of his three kids.
?
The ladies' squad was reeled off by Gavin Millar, while defending the Sunday paper.
Ferdinand is demanding "substantial" damages of ?50,000 for alleged "gross invasion" of his privacy.
But Mr. Millar told London's High Court the player was "the author of his own misfortune" for claiming he was a "reformed individual".
?
The Queen's Counsel insisted: "Disclosure of an affair was well justified in the public interest. The claimant's concern is about the effect of the article on the public image he has so painstakingly constructed. He has misled the public over a period of years."
Mr. Millar went on to brand the superstar's conduct "reckless and self-destructive."
?
The barrister declared: "He must bear some responsibility for placing himself and his family in the predicament in which they now find themselves."
The other women he named were:
Pop Idol contestant, Sarah Whatmore, 30, who the footballer met in a trendy Manchester bar back in December 2002.
Brazilian model Tatiane Rosalino, 26, who had accompanied him on a magazine shoot the same month.
?
Virgin air hostess Lauren Alcorn, 31. She claimed he paid ?7,500 for her to have an abortion during a five-year fling that began in January 2003.
Raunchy duo, Cathrine Shepherd, 27, and Savannah Benson, 26, who appeared in a videoed orgy on holiday in Ayia Napa, Cyprus.
Israeli model Lilach Yafe, 29, who regularly met the footballer in Tel Aviv.
?
Topless model Holly McGuire, 33. Ferdinand told the beauty he was single and she was the only girl for him.
?
Stripper Coralie Robinson, 22, from Tokyo. She told how Ferdinand panicked when Rebecca arrived in Japan on an unannounced visit.
Another Israeli model Tslil Sela, 22, who hooked up with him at his stag do in June 2009.
Interior designer Carly Storey, 32, the woman whose revelations sparked the lawsuit.