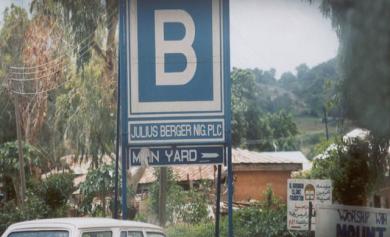 The contractor in charge of the Airport Road expansion project, Julius Berger Construction Company, has refuted allegations that it is responsible for the increased cases of crashes along the road.
This disclosure was made yesterday in Abuja by an authoritative source within the company, who spoke on the condition of anonymity.
This denial by the company is coming on the heels of allegations from some quarters that the presence of crash barriers, which are positioned at intervals along the expressway, had increased the number of accidents, rather than checked it.
The source argued that it was the recklessness and mentality of Nigerian drivers that was solely responsible for the crashes recorded.
"As a driver you do not expect the expressway to be in the same condition you met it in the morning – maybe on your way to work – in the evening. This is because a number of changes may have occurred in your absence.
"An accident may have taken place and there may be spoilt cars on the road or the road may have been re-channeled," he said.
He stressed that it was the duty of every driver to be vigilant, observant and careful when driving, adding that by driving within the stipulated speed limit, drivers would be able to identify any changes that may have taken place along the road.
He maintained that the crash barriers were well defined with red and white paint to make them easily visible to drivers at any time of the day.
"To heighten its visibility, we have also introduced the reflector lights so that it is highly visible even to night drivers," he added.
Our source further advised drivers to always drive within the 80-90 km/h speed limit for their own safety, to avert unnecessary accidents.
?