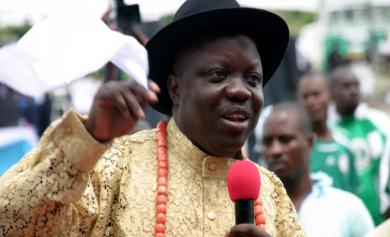 The January 6, 2011 re-run Election Tribunal sitting in Asaba, Delta State, yesterday reserved judgment for July 25, 2011 in the election trial between Chief Great Ovedje Ogboru of the Democratic Peoples Party (DPP) and Governor Emmanuel Eweta Uduaghan of the Peoples Democratic Party (PDP).
In three hours legal fire works, counsel to Governor Uduaghan, Wole Olanipekun (SAN) prayed the Tribunal to dismiss Ogboru's petition on the ground that the petitioner was not a candidate of April 20, 2007 and added that the petition should have died before the arrival of section 74 of evidence Acts and on the ground of Ibrahim Buba's case.
The second respondent and counsel to the PDP Adebayo Adenikpekun (SAN) said even though the petitioner proved his case, it was not grantable according to section 172 of the evidence Act and prayed the court that it has no jurisdiction to entertain the petitioner which he (Adenikpekun) said was the reason why the panel had only three members instead of five after the amendment Act and further asked the Tribunal to dismiss Ogboru's petition.
INEC's Counsel Onyechi Ikpeazu (SAN) while addressing the Tribunal urged that the petition be dismissed on ground canvassed by the petitioner that there was no voting in some Local Government Areas was not true as voting took place in all the areas.
In his submission, counsel to the petitioner Mogbeyi Sagay (SAN) told the tribunal to declare chief Great Ovedje Ogboru as winner of January 6 re-run election on the ground that those two judgments cited by the respondent before the Tribunal should be disregarded because of the following reasons; judgment is not pleaded rather they are facts; the proceeding before Federal High Court are not also pleaded before the parties.
Mogbeyi Sagay (SAN) stated that the judgment of Ibrahim Buba does not realm with the Act and inconclusive therefore, should not be brought to the court, adding that the refused tender documents of C40, coupled with INEC Commissioner's inability to testify before the tribunal were enough evidence to declare the DPP candidate a winner.
In her ruling, the Tribunal judge, Justice Uzuamaka Igwerika Doris however reserved judgment for Monday July 25, 2011.