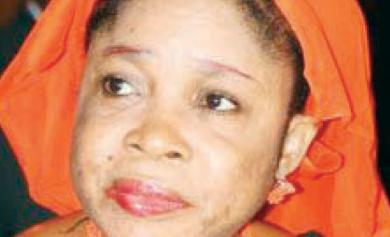 Chinwuba Kenechukwu Igbokwe is the second son of the late Christy 'The Lady of Songs' Essien-Igbokwe, MFR. In this interview with OLAOLU OLADIPO, he reveals that despite her fame, his late mother was an excellent mother and wife.
Sandwiched between friends and relatives, 'Kaka' as he is fondly called, stared at nothing, wondering why fate had decided to play such a cruel trick on him. Until a few weeks back, he had the privilege of enjoying the warmth and comfort of his mother, who he proudly labelled "a mother in a million".
Chuba 'Kaka' Igbokwe, the second son of three children sired by acclaimed 'Lady of Songs' opened up; "I was at home with my younger brother, waiting for people who had seen her in the hospital to come.
People knew how close we were, so they did not tell me that she was dead until later that day."
In an emotion-laden voice, he said, "I was really close to her, only that I had to go to school and as a result, have been somewhat distant. We were very close to the point that people started calling me 'Mummy's boy'.
"Anyone who knows me within the neighbourhood can attest to the fact that I usually make reference to her while discussing with people. I have earned the label, 'Mummy's boy'. She was the only person I saw most of the time.
But the seeming closeness between mother and son was not without the occasional wranglings, "We used to have our minor quarrels over some issues domestically, but we had a way of mending fences when such things happened."
Commenting on her proper discharge of her roles as a mother, Chuba said, "She was a great mother. People considered her a big artiste. But for an artiste of her standing, she still had time for her family.
"She was a proper African woman, one who knew her place in her husband's house. She recognised the husband as the head of the family. She was always in the kitchen, doing those things you find the average African woman doing, despite the fact that she was a big recording artiste."
He said his mother combined her duties as a mother and that of a music icon efficiently, in such a way that she excelled at both.
According to him, while the late Christy shone on different stages across the world, she was a mother anybody would wish for, as she did not shy away from her responsibilities within the family.
"As a child, I never really knew she was always going to concerts or away recording. That is how good a mother she was. Never, for once, did I feel her absence in the house. I would say that I felt the absence of my father more than I did hers."
Chuba said this ability to combine both roles made it tremendously difficult for him to come to terms with the reality that she was indeed a super star. "I must confess, it was very difficult for me to believe that she was the huge star people thought she was. When I discovered that she was a big artiste, based on what people said of her, I still found it difficult to believe."
There are a couple of things he would miss about her.
"She was very humble. She never drove home the point that she was a super star. As her children, we never lacked the basic necessities of life."
Though he could recall any particular occasion that would remain indelible in his heart, he said, "I remember she would say, 'what would be would be', that you don't need to be desperate for things to happen. That does not suggest that she did not encourage us to work towards our goals. She strongly advised against desperation."
Chuba, who found it difficult to fight back tears, recounted in a regretfully, "I just wish I had taken care of her. At about the time I had hoped to start taking care of her, she left abruptly. This would always linger in my mind."
He said for the 51 years his mother spent on earth, she maintained a good health.
"My mum was never sick. I only knew her to be sick just once. That was about eight years ago.
"This time, what she complained about was stomach ache which did not in anyway look serious. We just noticed that on that Sunday, before she died, she just laid down, a rather unusual thing, as she was known to be very active. We immediately took her to the hospital and she got okay. She relapsed on Tuesday and she ultimately died."
As far as he was concerned, the cause of her death was unclear. "They just talked big grammar," he said, but added that the family had a premonition of her death before it occurred.
"My mother always told us that she knew she would not live long. But we never took her seriously. "There was this day she told my younger brother that she won't live beyond half a century. We just waved it aside, until we all started having dreams about her death."
He said he and other members of the family, at different times, dreamt of the death of their mother before it occurred. "I had my own dreams that she was shot in the stomach. I was not the only one having these dreams; my brothers and a friend of ours had similar dreams. We had different dreams with the same sinister feel."
Regretting the turn of events, he said, "Normally, we would pray for God to avert such disasters whenever we experienced such terrible dreams. But in this case, we all forgot to pray or do smoothing serious about it. Anytime we tried to pray, something would just happen and our attention would be diverted to some other thing."
?