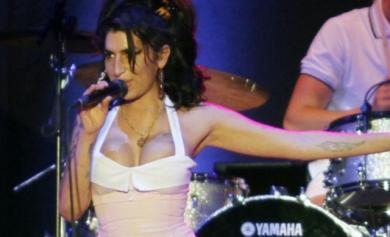 ?
In tragic news, Amy Winehouse was found dead in her London flat Saturday, according to UK reports.
While the 27-year-old Back to Black crooner has faced a very public battle with addiction to drugs and alcohol, her cause of death has not yet been revealed.
An ambulance was called to her residence in Camden, North London, at approximately 4 p.m. but medics were unable to save her.
In a statement to the Daily Mail, the Metropolitan police said, "police were called by London Ambulance Service to an address in Camden Square NW1 shortly before 16.05 hrs today, Saturday 23 July, following reports of a woman found deceased. On arrival officers found the body of a 27-year-old female who was pronounced dead at the scene."
News of Winehouse's passing comes just a month after she gave a performance in Serbia in June in which she staggered around the stage and could barely sing the words to her own songs. The singer's camp later canceled the remainder of her European tour as a result.
Prior to that concert, it appeared Winehouse was getting her life back on track, when she checked herself into rehab at the Priory clinic for her ongoing battle with alcohol addiction at the end of May. However, she quickly checked out only a few days later.
Winehouse's troubles with drug and alcohol addiction were nothing new, however. After famously penning "Rehab" with Mark Ronson, the singer became known for her public bouts with both.
"I've known for a long time that my daughter has problems," Winehouse's mother, Janis Winehouse, told the UK's Sunday Mirror in 2008. "But seeing it on screen rammed it home. I realise my daughter could be dead within the year. We're watching her kill herself, slowly. I've already come to terms with her dead. I've steeled myself to ask her what ground she wants to be buried in, which cemetery. Because the drugs will get her if she stays on this road."
"I look at Heath Ledger and Britney," Janis went on. "She's on their path. It's like watching a car crash – this person throwing all these gifts away."