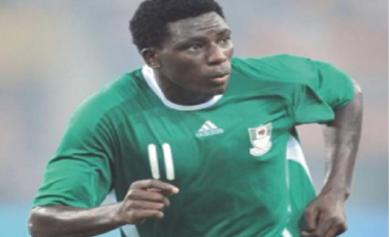 Aalesunds of Norway striker Solomon Okoronkwo has lashed out at critics who have questioned his inclusion in the Super Eagles.
The former Hertha Berlin striker told MTNFootball.com he was disappointed that some people have forgotten so easily his contributions and commitment to the various national teams.
"It doesn't matter really what people think or say about me. Football is my profession and I have played in big clubs before so playing for the Super Eagles shouldn't be a problem in the first place," Okoronkwo said.? ?
"I have actually proved myself in both the U-20 and U-23 national teams. I only need to be given the opportunity and the chance to prove myself again." ?
He added: "What I know is that I know how to play football and love it with passion. I don't believe in politics or talking but to go to the pitch and show what I can do with the ball. Just bounce the ball on the field and I will do what is expected of me.
"I only need to be given the opportunity to prove myself. If I can play against Argentina with the likes of Lionel Messi in the other national teams, I don't really see why I can't play for Super Eagles.
"I am so disappointed because in this country we forget so soon what somebody has done in the past. I know the impact I made in both the U-20 and the Olympic teams."
Okoronkwo will now focus his attention on Sunday's clash against Madagascar in Atananarivo.
"We need victory to ease our qualification for next year's Africa Nations Cup. We need to win the ticket and start showing to the whole world that we can be ranked among the best football nations in the world," he stressed.
?