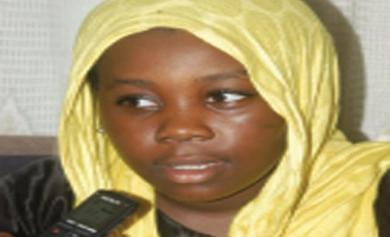 Aissatou Aisha Pindar, the 10- year- old daughter of Nigeria's former ambassador to Sao Tome and Principe, Ambassador Saidu Pindar, who died in an auto crash along the Kaduna- Zaria road last week Wednesday, expects life to be tough for her without her father. Pindar's eldest son, Aliyu , who along with his sister spoke to LEADERSHIP SUNDAY yesterday at the third day fidau prayer for the repose of the? former envoy, said the deceased? had accomplished so much in his life.
?
But Aliyu added that the shoes of his late father would be too big for anyone to fill. Aissatou, Pindar's only daughter, also told our correspondent:? "I think he wanted me to do very well in school and very good in my Islamic studies. I hope to be very good also in my studies. I want to be just like him. Life without him might be tough. "When I hear other people talk about this and that, I think it will be tough for me. I have to be strong because my dad always said he did not want me to cry.
?
?"He sometimes said that if he died, he did not want us to cry. So,? I have to be strong. I think it hurt him when he saw people crying for him."
When asked how much she had cried over the unfortunate incident, Aissatou said, "On the first day, second day. But I know that I will? definitely cry more in the days to come. She went on to say that her prayer for her father was for him to go into Al jenna Fidausi (Heaven).
?
She further said, "I remembered when he used to call me 'mummy', when my brother and I used to go out with him. I will definitely miss him every day. I pray that he goes into Al jenna Fidausi."? For?? his part, Aliyu said his warmest memories of his late father would definitely be his quality of leadership, his philanthropic gestures , how he treated people and the way he lived his life, "His? shoes are really big for anyone to fill. Rome was not built in a day, he said."
Aliyu said, "For him to have achieved so much in his life and at the age of 57, his shoes are quite big but he accomplished a lot. We will try and emulate what he has done so that we will continue to keep his name held in high esteem." Meanwhile, the late Pindar,? who? left behind three wives and seven children has been credited with initiating? lucrative business ventures and bilateral trade agreements? between Nigeria and Sao Tome. A close friend of the late Pindar, Ambassador Haruna Wando, who also spoke to LEADERSHIP
SUNDAY at the third day fidau prayer, said Pindar lived a fulfilled life.
He added that the deceased would be remembered for his kindness, hard work and for always trying to build bridges across different communities in this country. Wando said, "The late Pindar brought Nigeria and the governments of Nigeria and Sao Tome very close together. He had very good contacts with all the government officials in Sao Tome, from the president down to others, and that really brought together the two countries.
"He did quite a lot while he was there. A number of bilateral agreements that Nigeria signed with Sao Tome and Principe were initiated by him." Wando, who spoke at length about his late friend, said " I knew Pindar as far back as the early to mid-60s. So, we have come a long way. Unfortunately today, he is no longer with us. But we take solace in the fact that it was Allah's will that he should go back to Him.? "There is nothing we can do about that, but I must say that Pindar lived a very fulfilled life. As a student in the polytechnic where he did his OND, he was quite brilliant, very hardworking just as he got very good results.? After obtaining his OND, he went on to Ahmadu Bello University (ABU), where he studied electrical engineering. "He got excellent results, after which he worked briefly with the Borno Radio and Television Corporation before going to do a masters degree course in
Electrical and Communications Engineering at the prestigious Manchester University of Science and Technology. "Pindar came back from there and was still with the Borno State government, and then later he opted to join the presidency. We were together, when he came and joined us at the State House Annex, as it was then known. He rose to become a director and in between, he was also posted to Rome where he distinguished himself and later, he became an ambassador. "In fact,? the first ambassador to Sao Tome and Principe. While he was there, he showed a? stamina for hard work and also was able to distinguish himself. Shortly after finishing his tour of duty, he retired voluntarily and decided to go into politics. We were all surprised that he would go into politics having been in public service.? Some of the traits he had even as a public servant were legendary as? he was always a man of the people. He always had the time and? went back to his community to touch people's? lives.
It is on record that? he was always organising one thing or the other, trying to better the lot of his community and making contact with people? across Nigeria."? Wando, who was the boss of the late Pindar at the then State House Annex, noted that the deceased was a mentor to many of his contemporaries.
He said, "When he joined politics, though we were surprised that he went in, he surprised us by showing how dexterous he was. He was able to gather people around him. His politics was that of development."
?