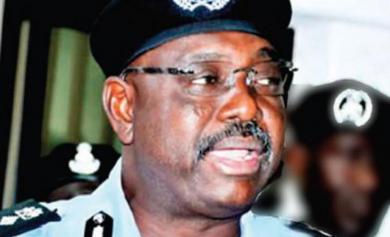 When the No. 1 security officer of the country is also hallucinating about the safety of his life, then, nobody else needs to be told that there is trouble in the land.
The inspector-general of police (IGP), Mr. Hafiz Ringim,? is sending a message to other Nigerians by raising the fence around his home to about 15 feet, in violation of the Federal Capital Development Authority's rule of 6 feet.? The fence around his residence on Yedseram Street, Federal Housing Authority, Maitama, Abuja, is currently being rebuilt with concrete slabs capped with electric cables.
A suicide bomber from the Boko Haram sect made an attempt to kill the IGP on June 16, this year. Ringim escaped the bombs detonated at the Nigeria Police Force Headquarters that day, but more than 15 other people were killed and scores of cars damaged. Since that deadly incident, the police boss has made tight security arrangements around his offices and residences in Abuja, Lagos and his village in Wudil, Kano State.
When LEADERSHIP visited the house last night, renovation work on the fence was still ongoing. All efforts to take the picture of the fence failed because of the presence of heavily armed mobile policemen.
?
It was gathered that the security measures have been prompted by the IGP's fear that the members of Boko Haram are still after him.
?Apart from the security arrangements around his office and official residence, an insider said, Ringim has also overhauled his security escort by doing away with some of the security guards he did not trust.
?
The source said: "The escort team of the inspector-general has been beefed up with additional personnel from the police and the Department of State Security. This became necessary because we believe that the same evil men who attempted to take his life are still after him.
"The tall fence you have noticed is not for fashion or structural design purpose; it is for the security of the No.1 policeman in the country."
?