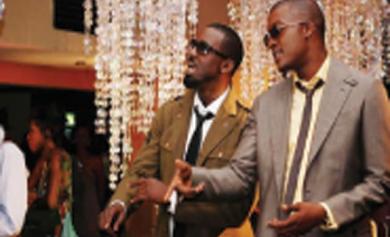 Last week, while talking about Timi Dakolo's album, 'Beautiful Noise', Naija Beats mentioned rap duo Show Dem Camp (made up of Olumide 'Ghost' Ayeni and Wale 'Tec' Davis ) as one of Naija Beats' favourites. The group launched their debut album, 'The Dreamer Project' yesterday, September 10, 2011.
Since their arrival in 2009, they have tested the waters with a couple of singles, and after two years in the works, a classic, Hip Hop album is what they have to show for it.
?
They made their claim to fame by winning the Best Hip Hop Group Award at the 2011 Nigeria Entertainement Awards as Best Rap Group, proving to many that they are the new voice of the Nigerian Music industry and gradually re-inventing themselves to become Africa's best, with a unique blend of African and Western components to create a sound that is rich in Hip Hop culture and vivid imagery.
'The Dreamer Project' features both established and upcoming artistes across Nigeria like 2Face, Nneka, Lynxxx, A1, Ghanaian singer Efya, Temi Dollface, Badman Floss, May-D (whom they featured on 'Farabale'), Lucci, Poe and Benny P.
?