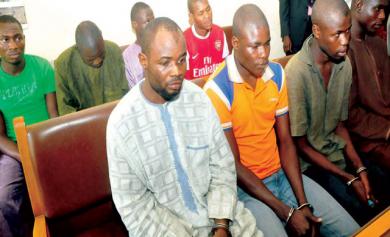 The federal government, through the Department of State Security Services (SSS), yesterday arraigned eight members of Boko Haram before an Abuja chief magistrate court for allegedly conspiring to detonate explosive devices in five places at various times, leading to the death of 25 persons.
The SSS had filed a two-count charge against the suspects. They are Shuaibu Abubakar, Mohammed Dalhatu, Salisu Ahmed, Ahmed Hassan Ezimakor, Umar Babagana, Mohammed Ali, Musa Adams and Umar Ibrahim.
The suspects had been arrested by the security operatives following two different incidents and are alleged to have unlawfully conspired with one another including one Bashar Madala (now at large) to prepare, plant and detonate bombs at various public places in Niger State by force of arms.
Sixteen persons were said to have died following the bomb blast at the INEC office in Suleja on April 8, 2011, even as three persons were killed at a political rally on May 3, 2011, and three peace officers were equally killed on May 23, 2011, at Dakina village, in Bwari area council of the FCT; three others died at the All Christian Fellowship Church, Suleja, on July 10, 2011.
The charge reads in part, "Criminal conspiracy to commit felony to wit, criminal intimidation and threat to life and voluntarily causing grievous hurt by dangerous means", and was interpreted to the suspects in Hausa language.
All but the fourth and sixth defendants entered a "not guilty" plea while Ahmed Hassan Ezimakor who claimed he could speak English, Hausa and French accepted knowledge on one of the charges.
Ezimakor, who works at a mining site in Awe local government area of Nasarawa State, said that during a visit to Abuja on May 25, 2011, he met Salisu Ahmed (third accused) who is a friend and member of the Boko Haram sect: "I was working in the mining site in Awe on May 25, 2011. After the site was closed, I relocated to Abuja. I met one of my friends, Salisu Ahmed, and he collected my number on condition that I did not give it to anybody. We have known each other since we started the Boko Haram preaching in 2008/2009. After the crisis in 2009, Bashar Madala called me with Salisu for a meeting in Madala.
"When I went there, Bashar collected my number and preached to me, saying all the people that went for the Boko Haram activities have to be trained to avenge our leader the late Mohammed Yusuf. He taught us how to handle AK 47 and, after that, the three of us took an oath. After the preaching, I told Basher that I was not satisfied and no longer interested in Boko Haram."
The accused, 31, an indigene of Imo State, said he converted to Islam in 2003. He continued: "I changed my number and travelled back to Nasarawa State. I received a call from an unknown number and it was Bashar. He told me he heard where I am working and asked me to supply him Cortex wire and I said I cannot.
"He insisted that I should connect him to somebody that can supply him and, because I was afraid of him, I told him that I will call one of the labourers working in the mining site. So I called Mohammed Dalhatu (second accused) and asked if he can get Cortex wire for people in need of it in Abuja. He later called to say he will."
According to him, he met Salisu (third accused) before Dalhatu (second accused) came to Abuja and asked how Bashar got his number after he had warned him not to give it out, but he claimed Bashar forced him to give the number.
"Bashar," he said, "needed two rolls of the Cortex wire, so Dalhatu went to Abuja. Bashar said he should hand it over to Salusi (third accused) who collected it from Dalhatu and handed it to Bashar. The money was given to him in my absence. This is the first one that I know about,"
The prosecuting lawyer, Clifford Osagie, however, intercepted the explanation, praying the court to take further testimony during the course of the matter as more suspects were being arrested in connection with the crime.
But Oyebiola opted to enter a "not guilty'' plea for the suspect. She also opted to enter a "not guilty" plea for Mohammed Ali (sixth accused). According to her, the accused persons are entitled to legal representation and would have the opportunity to state what they know during the trial.
The matter was adjourned till October 4 for further mentioning while the suspects were remanded in the custody of the SSS.
Meanwhile, four persons were yesterday shot dead by suspected Boko Haram members at a local drinking joint in Jajeri ward of Maiduguri, the Borno State capital.
Eyewitnesses said that the four included the proprietor and manager, a bar attendant and two others who had come to cool off in the local drinking joint popularly known as "Last Born".
Our correspondent gathered a group of unidentified men had, before the attack, warned residents to vacate the area, vowing to launch an attack in the area.
Confirming the incident, the state commissioner of police, Mr. Simeon Midenda, said two people, not four, were killed at about 8.45 pm Monday night "but the police has since cordoned off the area with a view to protecting lives and property".
Midenda stated that the attackers had besieged the joint requesting for money but later killed the owner and his bar attendant when their request was turned down. He said it was the wife of the deceased who was inside the joint that later gave the police this information.
Also, a hunch-backed tricycle rider Ali Donga was yesterday shot dead by gunmen suspected to be Boko Haram members in Maiduguri. Donga was given the tricycle by Governor Kashim Shetima as part of a poverty alleviation loan to cater for his family.
?