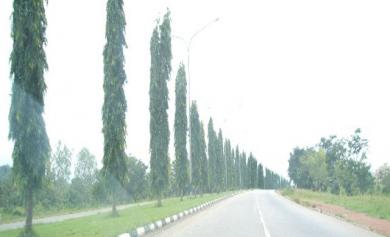 Residents living close to an abandoned road project at the famous Obafemi Awolowo Way, Airport Junction , Life Camp, Abuja, have continued? to decry the nightmarish traffic congestion along? the route.
?
Some residents and motorists plying the route to Karmo, Gwa-Gwa, Idu, and? other suburbs of the Federal Capital Territory (FCT), have threatened to block the road in protest if the authorities fail to swing into action.
?
They told LEADERSHIP that the state of the road, where a bridge has been built halfway, was causing them unbearable trouble.
LEADERSHIP checks revealed that the long-neglected road project being executed by the FCT administration was apparently abandoned in December 2010 due to what one resident attributed to the inability of the FCTA to fulfill its financial obligations to Julius Berger, the construction company handling the job.
?
Narrating her ordeal on the road, a civil servant who gave her name simply as Ogechi told this reporter that in recent times, she always gets home in the wee hours, a situation which she said almost tore her matrimonial home apart. "I have in recent times been getting home late and this, from the beginning did not go down well with my husband. It took the explanation of a neighbour who also came back shortly after me, for my husband to accept my excuses of being held up in traffic."
?
? Another resident, Engr Abdullahi Sani, said that though the road is one of four major roads serving as an outlet from the city of Abuja, it is the only one yet to be dualised. He lamented? that the bridge on construction at Life Camp Airport Road, which was awarded in November 2009, still suffered a serious setback in
spite of the fact that the Minister of FCT and his senior staff resided in the area.
He regretted also that drainage being constructed along the road was yet to be completed, and said that part of the road had been cut off by rain water, an ugly trend which, he said, added to the traffic squeeze.
?