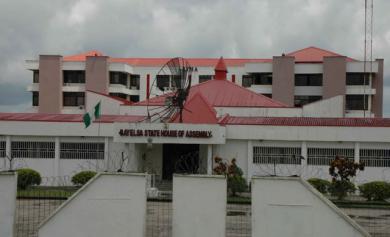 ?
The spate of insecurity in some parts of Bayelsa state yesterday took a new turn with the alleged invasion of the office of the Speaker of the Bayelsa State House of Assembly, Nestor Binabo and the Account office of the State Assembly complex by unknown persons.?
?
The invasion, according to workers atoffice of the Speaker of the?Bayelsa?State House of Assembly, Nestor?Binabo?, occurred at midnight on Thursday.
Leadership Weekend gathered that the suspected robbers gained access to the facility, concluded their operations and escaped despite the presence of armed policemen at the complex. It was learnt that the robbers burgled the office of the Speaker, Mr. Nestor Binabo, turned it upside down in and other valuables.
?
Staff of the Assembly complex told Leadership weekend that the scene of the invasion revealed a systematic search of the office of the Speaker and the Accountant.
A source who pleaded anonymity because she was not authorised to speak on the matter, said the robbers tried in vain to force open the safe in the office.
?
"When we resumed work this morning, we discovered that our department has been burgled. The robbers turned it upside down. We saw evidence that the robbers attempted to open the safe but they did not succeed. They hit the safe with various objects but they could not open it", she said.
Our correspondent further learnt that the robbers vandalised the door of the account office and removed its iron protector before gaining access.
?
The source said: "They broke the canteen door and escaped by breaking the window of the canteen. They then scaled the wall into an undeveloped plot of land at the back of the complex".
When contacted, the Police Public Relations Officer in the state, Mr. Eguavoen Emokpae, confirmed the development. He said though the place was burgled the robbers did not actualize their mission.