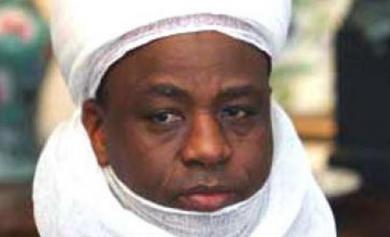 The Northern Traditional Rulers Council headed by the Sultan Sa'ad Abubakar yesterday stated that the lingering crises rocking the region can only be addressed by the northern governors through utilisation of state resources and giving more priority to the electorate.
In a communiqué issued at the end of its emergency meeting and signed by the Emir of Kazaure, Alhaji Najib Hussaini Adamu, the traditional rulers said that the sustenance of peace and harmony depends on the ability and willingness of elected leaders to effectively discharge their responsibilities to the electorate.
They however called on the relevant governments to implement the recommendations of the reports made by committees of inquiries into various crises in the north, especially the Solomon Lar-led committee on the Jos crisis.
The communiqué also called on the 19 northern state governments and entrepreneurs to pursue economic issues where there were comparative advantages with a view to addressing the challenges of rapid population growth, unemployment and poverty. "The council calls on the traditional rulers to remain politically non-partisan regardless of the enormity of the pressure to act otherwise as they are fathers to all in their respective domains."
The council also resolved to call on northerners to embrace continuous dialogue with one another by speaking the truth with a view to healing wounds inflicted in the course of advancing individual causes. "We also resolved to pursue all efforts for relevant legislative and constitutional review to empower traditional rulers to effectively participate in the affairs of the Nigerian state," the communiqué added.
The traditional council, however, applauded the timely initiative of the Arewa Consultative Forum (ACF) to organise a peace and reconciliation conference in December and promised to participate in it as major stakeholders.
According to the communiqué, a special committee chaired by His Royal Highness Etsu Nupe Alhaji Yahaya Abubakar will compile a comprehensive position paper to be presented? at a proposed joint meeting with the northern governors that will address the socio-economic challenges affecting the north.