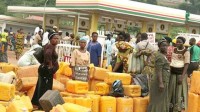 The lingering fuel scarcity in Lagos has made the prices of foodstuff to go up at various markets in Lagos.
A survey conducted by the News Agency of Nigeria (NAN) on Monday, revealed that the prices of items like yam, rice, beans, vegetable oil and meat have sky-rocked, due to scarcity of petrol.
At Daleko Market, Mrs Tope Olaifa, a dealer in rice, said a bag of stallion, tomato and caprice gold brands of rice which previously sold for between N7,000 and N7,200 now sold for N8,500.
Olaifa said that traders were compelled to increase the price of different brands of rice because those transporting them to the market complained that they bought fuel from black markets at exorbitant rates.
Like rice, the cost of beans has also increased, with a 100kg bag being sold for N14,000 as against its former price of between N10,000 and N11,000 while a big tin of the commodity sold for N350 as against it former price of between N150 and N200.
Similarly, the price of yam has shot up in Mushin Market, with a medium-size tuber selling for between N500 and N600 as against the former price of between N350 and N400.
At Oyingbo Market, Mrs Sherifat Akinola, a trader, told NAN that a 25-litre can of various brands of vegetable oil like Turkey, Kings, Gino, Sunola are being sold for between N5,500 and N5,600 as against their former former prices of N5,000 before the fuel increase.
"Consumers just have to bear with us, the high cost of transporting these food items to the market is affecting their price as local farmers spend more money to transport them to the market," Akinola said.
The survey also indicated that the price of meat has increased.
Mr Sefiu Ramoni, a meat seller at Mushin Market, attributed the increase to the high cost of rams.
He said that a big ram which was sold for between N50,000 and N60,000 was now being sold for between N68,000 and N70,000.
The survey, however, showed that unlike rice, beans and yams, the prices of edibles like pepper, tomatoes, and onions have gone down.
For instance, a basket of tomatoes which formerly sold for N1,500 is now selling for N1,200, while the cost of a big sack of pepper, costing between N4,000 and N6,000 has reduced to between N2,500 and N3,000 while a big sack of small pepper which used to cost N12,000 now sell for N9,000.
Similarly, a big sack of onions which formerly cost N24, 000 is now being sold for N7,000.
(NAN)