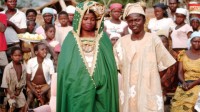 The Jakusko Local Government Council in Yobe has enacted a bye-law, pegging bride price at N5,000 and N10,000 for divorcees and spinsters, respectively.
The Chairman of the council, Alhaji Saleh Amshi, told the News Agency of Nigeria (NAN) in Jakusko on Monday that the law was aimed at checking the rising cost of bride price.
He said that high bride price had stopped many young men from getting married, stressing that the measure was to encourage marriage and check illicit relationships.
He directed traditional rulers to ensure adherence to the law, saying "this will assist people at the grassroots.
"It is in the interest of parents to get their children married with ease than looking for treasure and risk your daughters and sons getting involved in vices."
Meanwhile, the Yobe State Ministry of Religious Affairs had embarked on sensitisation campaign on HIV/AIDS test as a prerequisite for marriage.
(NAN)