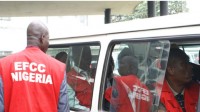 The House of Representatives on Wednesday rejected a bill for a law for the forfeiture of property purchased through unlawful means.
The bill, which was slated for second reading, was rejected through a voice vote as some members argued that the country was not ripe for such a law.
The bill titled:  "A bill for an Act to make provisions for the Restraint and Civil Forfeiture of property derived from unlawful activity"  seeks to checkmate activities intended to be used in the commission of unlawful acts.
It also seeks "to make provision for the investigation of benefit derived from corruption, money laundering and instrumentalities to make provision to give effect to request to and from foreign states for the restraint and confiscation of property used."
In addition, the law seeks "to extend powers of the law enforcement agencies and make provision for the use of recovered property".
Members, who opposed the bill said that it was not timely and that necessary precautionary steps must be put in place before the passage of such bill.
They argued further that such forfeiture presumed that the affected individuals were guilty of the offence without trial or conclusion of prosecution by EFCC.
Meanwhile, some other lawmakers said the bill would go a long way in curtailing corruption in the country and serve as a deterrent to intending corrupt persons.
When Speaker, Dimeji Bankole put the question to vote, majority, through a voice vote, rejected the bill.
In another development, the Rep Baba Sheu Agaie-led delegation to Saudi Arabia on a goodwill visit to President Umaru Yar'Adua on Wednesday submitted its report before the plenary session.
The News Agency of Nigeria (NAN) reports that a six-member delegation of the legislators two weeks ago visited Jeddah, Saudi Arabia, on a good will visit to the president but was unable to see him.
(NAN)