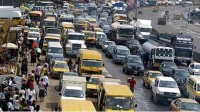 The Federal Government has earmarked N970 million for the rehabilitation of Kaura-namoda water works in Zamfara State.
Sen. Sahabi Ya'u, representing Zamfara North Senatorial District, told newsmen on Wednesday in Kaura-namoda, headquarters of the local government area that the work was expected to commence next week.
Ya`u said that the project would enhance the availability of potable water to the people of the town and nearby communities.
He said the project was in line with the government's effort toward curtailing the outbreak of water-borne diseases.
The Senator said he had constructed a number of boreholes in his constituency to complement government's effort.
He said that the construction of the Gusau-Kaura-namoda-Jibiya road would be completed in 2011.
Ya'u commended the Federal Government for executing numerous projects that have direct impact on poor people nationwide.
He also urged state governments to initiate programmes aimed at reducing poverty and providing employment to the youths.
(NAN)