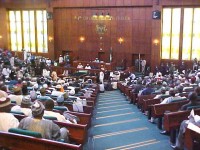 The Speaker, House of Representatives, Dimeji Bankole, has assured Nigerians that the House would enhance budgetary appropriations and intensify legislative intervention for the armed forces.
He gave the assurance in Yusufari, Yobe, at the closing ceremony of a seven-day training exercise on desert warfare for final year cadets of 57 regular course of the Nigerian Defence Academy (NDA).
The Speaker, who was represented by the House Leader, Tunde Akogun, maintained that the training and re-training programme of officers and men of the armed forces were necessary to keep pace with modern developments.
"It is acknowledged that modern warfare equipment, complemented by first grade manpower, has become the equation which adds up to consistent victories on the battle front," he said.
Bankole commended the military for accepting and sustaining democracy, adding that "it is commendable the way in which the military has subordinated itself to the civilian authority".
"I must observe that one of the major beneficiaries of the stability in our democratic dispensation is the Nigerian military. Adequate funds are regularly appropriated and invested in the training, modernisation and professionalism in the military," he said.
The speaker maintained that the current dispensation had made the military more attractive with assured future while coup d'état was now less attractive.
The NDA Commandant, Maj.-Gen. Mahmud Yerima, said the training in desert warfare became necessary to keep pace with their engagements.
"Nigerian armed forces has found its personnel operating in terrains and climate that they are not adequately prepared for, such as Dafur and Somalia, which are both desert environments," he said.
He said the training, code named Operation Desert Fox, has exposed the cadets to an efficient operation, command, control and communications in the desert.
Alhaji Murtala Yar'Adua, Minister of State for Defence, assured that government would provide the army with all necessary support to enhance professionalism for defence of the nation's sovereign integrity.
Similarly, Alhaji Adamu Waziri, Police Affairs Minister, commended the army for its commitment to professionalism in its institution.
He urged the Yobe Government to assist the academy in establishing a permanent training camp in Yusufari as its contribution to national development. (NAN)