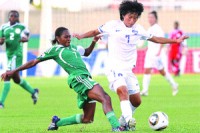 The Nigerian national U-17 women's team, the Flamingoes, was ousted at the  quarter-final stage of FIFA U-17 World Cup Trinidad and Tobago 2010 by Korea Republic at the Manny Ramjohn Stadium in Marabella on Thursday evening.
The Flamingoes were edged out 6-5 after extra time by the Asian team but the Koreans had the officials to thank for getting back into the game in the 2nd half.
The Nigerians squandered a 2-0 lead they got inside the first three minutes of the encounter, taking in two goals in both halves of regulation time, and then again in the first period of extra time.
But the game turned on the phantom penalty given to the South Koreans in the 70th minute with the Nigerian leading 3-2. There was hardly any touch and the SK player and the ball were clearly yards outside the box.
However, the Greek referee, Thalia Mitsi and her assistants somehow pointed to the penalty spot and booked the Nigerian defender, Ebere Okoye to the bewilderment of all in the stadium.
That injustice eventually ruined the Nigerian girls confidence as they hard to start chasing the game thereby leaving themselves open to counter-attack.
However the Nigerian girls did not allow the disappointment to weigh them down too much.
Star striker, Francisca Ordega told FIFA.com:  "I'm very sad right now, but I know I'll be feeling fine when the pain subsides.
"Not everyone has the chance to take part in a World Cup and it's something we should feel proud of. It's no mean achievement to reach the last eight, although it would have been nice to go a little farther."
"Our next objective is to keep working hard and to make the U-20 team and, why not, the full national team. This tournament has been the first step in making that possible, and although it won't come easily because things are tough in my country, anything is possible as long as we have faith and work hard," she added.