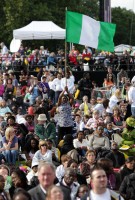 Paschal Uche, a 21-year-old Briton of Nigeria origins, was on hand to officially welcome Pope Benedict XVI on behalf of all young people of the UK at Westminster Cathedral today.
Uche, who is  from St Francis of Assisi Church in Stratford, East London, was chosen by the Diocese of Brentwood to greet the Pope.
The Wanstead, Redbridge born, who is also a Pharmacy student at Nottingham University, told the Pontiff: "For many of us before today you were a face on television or a picture in a church.
"But today we behold you face to face, and on behalf of the Catholic youth of this great nation I would like to express my profound and heartfelt gratitude for your visit."
Watch the Pope meet young British Catholics below:
Speaking afterwards, Uche told the Telegraph:
"It was just amazing. It was a brilliant experience. The crowd was roaring, it was an amazing feeling. Words can't describe it.

"The young people really did show with their voices, hearts and smiles how much we do love him.

"In a sense it was a rock star welcome and he really responded to that."

He said when he finished welcoming the Pope, he was surprised to see the 83-year-old get up off his chair.

He said: "I rushed in to make sure I shook his hand. At first I didn't really know what to say. Then I asked him for a blessing.

"I was so nervous, especially with all the cheering, but I knew I had to concentrate on doing a good job otherwise it would have let everyone down.

"I was just going to bow and move to one side but then he got up and shook my hand and I took that as an opportunity and said 'Can I have your blessing, father?' and he did. It was amazing.

"He said 'well done' and 'you did a great job' and then he was asking me about where I came from today, where I was born, what I was going in my life. It was such a big highlight for me for my faith and my life."