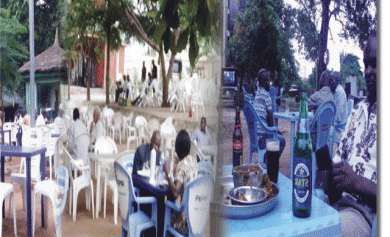 Abuja is considered a city full of civil servsnts and politicians, a city characterised by the hustling and bustling of city dwellers doing all they can to eke out a living. Before this time, nightlife in Abuja was a thing to look forward to, especially during weekends. The clubs would come alive with music from live bands and shows in all corners of the city.
Over the years several night clubs like the Dome, Ibiza, Blakes and many more, have emerged, providing ample opportunity for night crawlers to have fun at the end of busy working schedules.
?
Such hangouts provided residents the opportunity to unwind and fraternise with pals and business partners. Indeed, live was fun in any of the city's many gardens.
All that is no more. Gone is all the gaeity and riotousness, thanks to the recent security condition in the country. Everything took a different turn when the Federal Capital Development Administration, FCDA, recently announced new measures to ensure security of lives and property within the metropolis.According to the new directive which residents have termed a "curfew" nightclubs, beer parlours and cinemas must round-off their activities by 10 p.m while public parks and other places that admit children must call it a day at 6 p.m.
?
Some residents have kicked against the measure and termed it "high-handed", as it has made life difficult and unbearable.
Citizen Usman Darlington is not a fan of the recent directive. "Nawao! These people mean business this time around. I thought they were joking. I have gone round this city looking for a place to chill. I have been to Area 8, Area 2 and the Utako Park, all in the search for a cool joint to have a beer after the day's job, as usual, but to my surprise, nobody was ready to sell me any. Everyone told me that 'government said no more alcohol sales in gardens and parks, and that they must stop business at 10p.m."
He spoke the minds of many residents who have experienced a similar difficulty.
?
"Policemen are stopping people from entering the place. It means I will be going home early," he said. Obviously, he disliked the idea.
a banker with a commercial bank in Abuja, Samuel Okah, said he had hit his favourite spot, Unique park at Senegal/Accra Street, Wuse Zone 5, after the day's work to share some drinks with friends and colleagues. At a time, he was a regular at the Mogadishu Military Barracks mammy market to savour the specially prepared roast fish the market was known for. This was before it was before it was bombed on December 31, 2011.
The bomb blast at the Nigerian Police Force headquarters' parking lot gave rise to serious security concerns, resulting in the directive issued by the FCDA to proprietors and proprietresses of bars in the city, he said, had turned him into a different man. He lost his appetite for relaxation spots.
?
He told leadership sunday; "last weekend I couldn't go anywhere. I was bored to death. I can't believe this is happening in Abuja. What's the sense in imposing this curfew?"
Okah's fate is fast becoming that of many residents of Abuja, as most of them have suddenly found reasons to avoid night- crawling. Many, especially men, are now wary of going to crowded locations like bars, markets and parks, where explosive devices could be planted to cause havoc.
What informed the FCDA's decision? The administration's director for parks and gardens, Luka Bulus, told LEADESRHIP during a chat that, "With recent happenings in the country, it is clear that these people target crowded areas. In line with this, we figured that if we succeed in decongesting our parks and gardens, we can save lives, especially those of our young people and children.
?
"Besides, these parks were not meant for the terrible things some of them are being used for. Some of them allow nude dancing and have become avenues for prostitution. Moreso, they stay late into the night and create a nuisance for surrounding neighbours who might like to rest or do a few things at that time."
But the directive has affected patronage in these places, surely?
"Look, if for the good of the society, we sacrifice some of these frivolities, then we are on the right path. These beer-sellers have no license and they sell drinks to under-aged
people. They are no more points for relaxation, because the very essence of their coming into being has been greatly abused.We have abused the concept of relaxation. Drinking crates of beer and being violent is no way of relaxing. It is public nuisance."
While it has continued to be dull moments for the operators, their workers, hawkers, local musicians, residents who take solace in these gardens have not been finding it easy, as they have retired to satellite towns. One of the enclaves that has 'profited' from the city's perceived loss is Zimbabwe, located along Keffi road, Nasarawa State.
?
When leadership Sunday visited some joints around 8p.m, there was a poor turn-out of patrons compared to former times when they were lively. Most of the operators who spoke to our correspondent agreed that the move of the FCDA was good, but since no one knew the extent of the prevailing security situation, it was not wise to begin to close public places or restrict operations of businesses, because in the future, they may have to shut markets and worship places.
The same situation was noticed at some of the usually bustling joints in Abuja. At the popular Eden Garden in Jabi and Bourla garden in Garki 11, patronage was low.
?
A staff of Bourlar garden told our correspondent, "We believe the curfew is in the country's interest. However, no one knows the extent of this issue and if we begin to close night clubs and bars now, that means we may also have to close markets, churches, mosques and even schools or anywhere you have more than two people gathered in future. The truth, is we are ready to cooperate with the authorities for our safety and safety of our customers but we hope this could be resolved as soon as possible".
As the menfolk grumble and pub-owners count their losses, the wives are happy to have their husbands around and at home. Those who once patronised drinking joints have reduced opted for fun spots and those who insist on having fun in any of the gardens warned by their partners to be conscious. The apparent attacks on drinking joints have had serious effects on businesses, not just in Maiduguri but in most of the northern states.
?
"My mother called from Lagos and told me to be careful about visiting drinking joints. I understand her fears, because some of my friends said they have also received numerous calls urging them to be careful when going to pubs to have a drink," Isaiah, a resident of Lugbe, one of Abuja's satellite towns told leadership Sunday.
Another resident, James Oguchukwu, said, "As for me, I have stopped going to beer parlours. I buy my drinks and take them home. Heaven help those who help themselves, so I have to avoid the joints until security is restored in the country".
?
A bomb blast blew a drinking joint in Zuba a suburb of Abuja, on May 29, 2011, killing two. Since then, business has been on the decline.
A beer parlour operator in Zuba said business has not really been good since the May 29 explosion.
"Sales have gone down but I have not really been conscious of the cause, except now that you mentioned it. Usually we sell between 20 and 30 crates but it has reduced
since the blast."
Fish-sellers are not left out. One of them said, "When people came to drink they bought roast, peppered fish from us but business has been poor since that incidence. Many are afraid of coming here to drink and has affected our business. We are asking the police to provide enough security so that we can continue our business. From here, we feed our family."
?
The situation was different at the Millennium Park situated opposite the Transcorp Hilton Hotel, as it was packed with fun-lovers. Families sat in colonies, enjoying snacks and drinks on the expansive green field while commercial photographers tried to persuade them to take 'memorable snapshots.'
The road leading to the park's gate was lined with food-vendors, 'mai suyas' and others making brisk, good business as they called out to guests.
"I came, because I was tired of staying at home. Initially, I was afraid to visit the park, but was assured by the presence of soldiers and policemen.
?
"True, the blast discouraged people from visiting public places, but unless serious security measures that could nip criminal activities in the bud are introduced by the government, nightlife in the city could die off," said citizen Miriam.
Will this directive be adhered to? Will the new administration of the FCDA, ordered by the in-coming minister carry on with the directive? In the light of various reforms instituted by one-time FCT administrator, Nasir el-Rufai, which were almost rubbished by subsequent administrations, every one waits with bated breath to see how far the FCDA will go to ensure complete adherence to this directive.