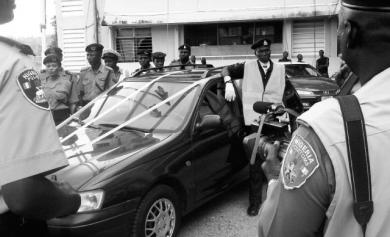 Hard work, they say, bears excellent fruits. Recall that a few weeks ago, Interval published a feature on Corporal Hudu Isah, an extraordinary civil servant who controls traffic at the Wuse Zone 7 junction in Abuja with so much passion. Well Corporal Isah's hard work and diligence has been rewarded with a brand new vehicle from the comptroller-general of Customs, Abdullahi Dikko Inde, following LEADERSHIP's publication. HAUWA MAHMUD KOLO, writes.
With uncontrollable delight, huge enthusiasm and bundles of extreme joy, Hudu Isah, a young traffic officer of the Nigeria Police Force who hails from Kebbi State, drove his brand new car from the FCT Police Command to his duty post in Wuse Zone 7, Abuja.
Isah, who has maintained an indomitable spirit in discharging his duty and has enjoyed the favour of huge amounts of money from motorists over the years, says he didn't see the car reward coming. "As usual, I was working at my duty post when a vehicle from the comptroller-general of Custom's office drove up and the person inside requested that I follow him to see his boss, who had sent for me. On getting there, the comptroller-general showed me a vehicle and said he was giving it to me as a reward. I was so bewildered that I began to shed tears of joy."
Expressing his unlimited happiness, Isah relates, "I am very very happy and indeed proud. One of the things that have immensely encouraged me is the fact that people appreciate what I do. And with this kind of reward, I can only continue to work harder."
Lawrence Ikpeba, who made the official presentation of the vehicle, on behalf of the comptroller-general of Customs at the FCT Police Command, said the reward was attributed to nothing but Isah's hard work. "The comptroller-general of Customs is a very hardworking man and he loves everybody who works hard not only in the Nigeria Customs Service (NCS), but everywhere and this award has demonstrated his true spirit. This goes to show others the importance of hard work. If they could emulate him and also work like this, they could also win the same thing tomorrow.
"The most outstanding and unique thing about Isah is that even though he works in very harsh conditions, whether under the sun or in the rain, he still exhibits zeal, happiness, patriotism, joy, and strong will, even while suffering. "
The deputy commissioner of Police, Umar Shehu, said Isah's reward was the first of its kind in the history of the FCT Police Command. "Corporal Isah has demonstrated what the Nigeria Police Force truly stands for, which is dedication and commitment to service. The hard work, honesty, and loyalty he exhibits are what have today earned him a brand new vehicle from the comptroller-general of Customs."
In the course of LEADERSHIP's earlier interview with Isah, he had said he had a major constraint, which was the proximity of his home to his duty post. In his words, "I really wish I had much better accommodation that is closer to where I work. I leave my house in Suleja as early as 4:30 am in order to make it to work by 5:30 am and I get back home by 9:30 pm every day. I pay transport fare of approximately N400 on a daily basis and I work almost 12 hours daily.
"I only go on break twice, at 1pm and 4pm, from then, I don't leave the road until night. I am used to the stress, because I just believe it is God that gives health, so I don't fear any form of sickness. But one thing I would really appreciate is a better residence." Although the young officer didn't get exactly what he wished for, he has been blessed with a vehicle that will enormously ease his transportation need."
Isah has a short but worthwhile word of advice for his fellows. He says, "Work hard and work harder."
?