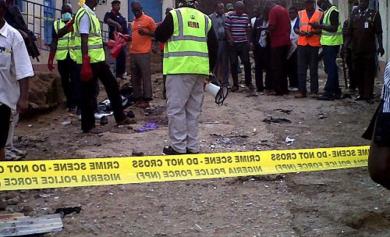 Security was massive and tight on Sunday in Suleja as the All Christians Fellowship Mission held a memorial service for its three members who died in a bomb explosion.
The News Agency of Nigeria (NAN) reports that the divisional police officer in charge of `A' Division, Suleja, Mr Bassey Effiong, led the officers who formed part of the security group.
The officers screened church members and all others who were either invited or had a mission at the service, conducting the screening some metres away from the church.
"We must check everybody, even the members. We are not looking at faces. Experience has shown that security goes beyond that, as anybody could be used as an agent of destruction," Effiong said.
NAN reports that the church authorities also carried out instructions of the deputy governor of Niger to remove a refuse dump situated close to the church premises.
Also, a pathway leading to the church office usually plied by motorcycles, has been blocked, leaving only the main gate as the entrance to the church.
In a sermon anchored on Romans chapter 28 verses 32 to 39, Rev. William Okoye, the church's general overseer, urged the worshippers to remain grateful to God.
"You should give thanks to God in all things, notwithstanding what might have happened to them. All things work together for good to those who love God.
"If we serve Him, no matter what happens, God will turn it around to serve a purpose.
"There is nothing that happens that is hidden from God, for He knows what happened to this church last Sunday from the foundation of the world, because He is the Almighty," he said.
Okoye, however, consoled the church members, assuring them that proper arrangements had been made to guard against a possible recurrence of the bomb explosion.
Speaking later to NAN, one of the church members, Rev. Godwin Umeh, described last week's explosion as very unfortunate.
He said the church had lost dedicated and faithful members.
Also, a chorister in the church, Mrs Florence Okoro, said that the church members did not expect the blast, especially on a Sunday.
"But, as a Christian, I believe the deceased have gone to rest eternally," she said.
NAN recalls that a bomb explosion rocked the church premises on July 10, claiming the lives of three of the church members.
The deceased are Mrs Theresa Ogbogu, 51, who was the chairman of the church's Mission Support Team, Miss Ifeyinwa Ogubuike, 38, and Mr John Edward, 22.(NAN)?