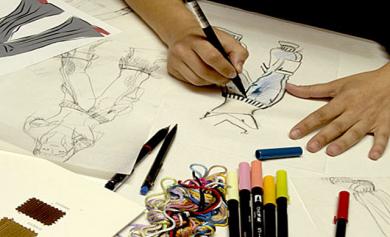 The Nigerian fashion industry has grown by leaps and bounds in the past decade, with the practitioners taking the art of fashion designing making to an unprecedented height.
One of the major players on the scene, Mrs Folake Majin, shares her story in a chat with CHINYERE FRED-ADEGBULUGBE.
While you may not outright call hers an enchanted life, the thrill of it all is evident.
From being a wife, stay-at-home-mom and now celebrated designer, the Founder of Schon Afrique, Mrs. Folake Majin, is sure having a ball.
"I used to be a full time housewife," she tells you categorically.
Okay. But at what point did she decide that fashion entrepreneurship was the future?
She says, "When my children had grown to a certain point and didn't require as much attention I started my fashion business."
But that is not to say she abandoned her family. At least, she still does school runs. For her last child, that is.
Majin explains, "I try as much as possible to work hard and run the business without eating much into the family time, the family is very important to me, I have a young son who is a teenager and I enjoy attending his school programmes, school meetings, concerts, football games and other activities."
An English and Literature graduate of the Ahmadu Bello University, Zaria, Majin says her incurable passion for fashion made her push syntax and semantics aside for the designing table.
She actually learnt French in order to design clothes!
"While I was still a housewife, I was frustrated that I could not read and understand the French fashion and pattern magazines my husband used to buy for me, so I went ahead to study French," she explains.
That obviously paid off. Her clientele base currently reads like a roll call of first ladies, female ministers, film and television stars and high-profile corporate women.
What then is the catch you wonder and she states, "The catch is beautifully detailed and unique designs that stand the test of time and attention to clients' individual needs. We give clients value for money and perfect fits because we go through the process of individual patterns for all clients. And for several, we give what we call the "finger print treatment."
Her designs, she enthuses, are created specially for the client. "You know how God created us, unique, special, wonderfully and fearfully made. Even identical twins don't share the same finger prints," this mother of six adds.
Looking at the gorgeous works on display you cannot help but ask what her source of inspiration is and she says, "I am inspired by all things beautiful, the client's personality, the fabrics, the purpose for the design and accessories. I love beautiful fabrics, every fabric of high quality, laces, silk, wax pint, Aso-oke, chiffons, luxurious, duches and satins. They excite and motivate me."
Describing her typical client, Majin notes that "She is definitely confident, classy, enjoys her uniqueness and loves to stand out. She loves the perfect fit, the wow factor."
This is even as she insists that her price tags do not necessarily leave one's bank account in the red.
In fact people do not need to go bankrupt, she notes, pointing out that one can spend heavily and still not look as good as a person who has not spent as much but has meticulously and personally, put herself together or done so with the help of a designer or stylist.
She goes on to explain how she manages to churn out such stunning designs.
"You see there is a lot that goes into creating designs especially, pieces that are unique that are not seen in the finished product! There are several trials and errors; take a little here, add a little there draft patterns midway, manipulate fabrics here and there. The creative process is always a risk. Some take quite a while to get right, but with others you hit the bull's eye, smile satisfactorily and thank God for his creative juice. Like I always say it is adding a tentative 3 and problematic 4 and coming up with a solid 7."
But the creative streak doesn't end with her. It goes all the way to at least two of her daughters who have, within a short time, stood out as great fashion designers. Perhaps, this is a case of a mother passing off genes to her offspring.
She chips in, "Well I guess so but fashion is just one of the other things they are occupied with. However, I must tell you that they are amazing designers. My oldest daughter is at home with creating unique pieces that blow the minds of the tailors and even the pattern drafters, she attended central saint martins London, same school attended by Stella McCartney, Alexander Mcqueen, John Galliano and other great designers. Her younger sister just released her ready to wear line 'Gogo Majin for Folake Majin."
Having spent more than a decade in the industry, she has a word for aspiring fashion designers.
"They shouldn't just assemble equipments and tailors and think they can have it smooth running, they must have a basic knowledge of pattern making and a natural flare for the business. They must have a passion for it and be determined to succeed. They must earn the tailors and cutters respect by contributing knowledgeably at the design, pattern drafting, cutting and sewing levels. It is important to treat their workers with respect and consideration,"
She sees the industry of having come of age. "Gone are the days when only school drop outs are advised to go into fashion business as a last resort. Now we have lawyers, engineers, bankers and other professionals branching into fashion business."
Just like designs, Majin's young and chic looks have continued to amaze people. Surprisingly, she insists it has more to do with good genes than personal efforts.
While she also finds time for other activities including dancing to good music when not at work, the allure of designing, it appears, will continue to hold this woman for a long time to come. "The future is in God hand but I see myself in fashion related business as long as I have my breath," she states.
?