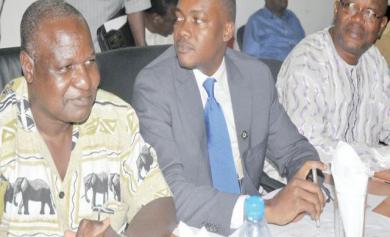 This might not be the best of times for the Nigerian Labour Congress (NLC) as the solicitors representing Former Acting Head of Information of the Nigerian Labour Congress (NLC), Comrade Iduh Lawrence Onah and Miss Esther F. Ogunfowora have threatened to drag to court for wrongful dismissal.
Okunnade Olorundare, SAN, counsel to the two parties had given notices to the NLC over allegations of wrongful termination of their appointments.
Iduh's appointment was terminated on May 24, 2011 via a letter signed by the president, Abdulwaheed Omar.
A copy of the sack letter made available to LEADERSHIP reads, "this is to inform you that the National Executive Council (NEC) of the Nigeria Labour Congress (NLC) has decided that in line with ongoing re-organisation in congress, your services are no longer required with effect from Tuesday 24th May, 2011"
Solicitors to Onah had stated in a notice made available to LEADERSHIP that "he was a principal officer of the congress and his condition of service were regulated by the constitution of the NLC and the NLC Conditions of Services (1999) as amended" and also wondered how a re-organisation in congress "could result to sudden termination of employment ", especially that of a principal officer without giving him any official communication or notice"
They further argued that the purported termination of their clients' employment was "cavalier and brusque devoid of any opportunity for fair hearing and constituted an affront to and violation of the constitution of the NLC which the NLC president had sworn to protect .
"It is also a manifest breach or infringement of the NLC conditions of Service 1999 as amended which intrinsically embodies the principle of natural justice. For the avoidance of doubt, Article & Clause 2(IX) of the NLC Constitution was not complied with nor was our client given three months notice or paid three months in lieu of notice on May 24, 2011(the effective day of his termination as envisaged or provided for in chapter 111 clause 3.1..1 of the NLC conditions of Services 1999 as amended" it stated.
The Solicitors threatened that except Iduh was recalled with all salaries and perquisites of office paid immediately, they would not only drag the congress to court for breach of contract but also ensure that the court proceedings and the despotic antics of the present NLC executive were given wide publicity as the termination of their clients employment was not only wrongful but manifestly unjust, oppressive and vexatious attitude.
Meanwhile, Project Coordinator for the (NLC/TUC-UK) HIV/ AIDS project Ms Esther F. Ogunfowora had also been dismissed in a signed letter by Acting Secretary of the NLC Owei Lakemfa
Esther who is also represented by the same Solicitors had in an internal memo made available to LEADERSHIP expressed shock at the termination of her employment dated May 24, 2009 which she said was against their signed contract agreement and stated that the span of her contract was for three years, from July 2009 to June 2012.