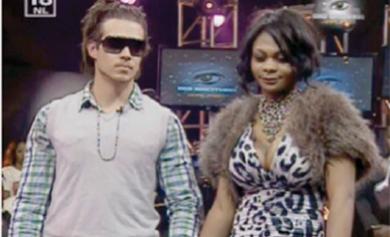 Last year it was Uti and Munya, Nigeria and Zimbabwe's representative that came tops. This year it was an encore for both countries again as Karen and Wendall shared the $400,000 'Amplified' cash writes Boboye Onduku.
The evictions of Vina and Hanni seemed to follow a script, but down to the final five and the drama began to unfold on the final day of Big Brother Africa. First, all the remaining contestants were told to exit the 'Amplified House'. Then there was Sharon O's funky 'Yoh man' vibes and Luclay's half hearted attempts to conceal a desperate longing by giving IK a perk. The other three; Lomwe, Wendall and Karen seemed to be prepared for what was to unfold.
Sharon O's lips could only mutter 'Oh my God' as IK called on her. It was understandable because her dream of winning the show was evaporating before her very eyes and they did evaporate as her highlights were played and she was promptly evicted from the stage. This was definitely not part of the script for her nor her fans. After that, it became a guessing game for most of the viewers: "It's either Wendall or Lomwe next' some thought out loud.
Lomwe?Yes! Wendall? No
Lomwe was also summoned to step forward and after the eviction formalities he joined his evicted colleagues offstage. The tension intensified as the cameras went off to get a feel of the live show audience. "Lucaren," a female fan screamed as the co-presenter sought to know her candidates for the Big Brother prize. That was only an anti-climax not only for her but to Luclay, her country mate. When IK asked him to step forward and talked about his time on the show, many thought that another twist was in the offing. Yes, there was a twist but it was playing out before them: Luclay was being evicted from the house. For the umpteenth time, it was heartbreak for thousands of South African fans as the Amplified Show was not going to produce a home winner.
Amidst subsequent jeers and boos from the largely South African live audience, Karen and Wendall were asked to step forward. It meant only one thing for viewers but IK's long and winding talk started put celebrations on hold. Was there going to be some last minute twist? No! "You are both winners of $200,000 each" screamed IK and family, friends, contestants and fans jumped on stage to join the star-laden moment. At exactly, 7.59 pm Nigerian time, the credits for Big Brother Africa were rolled and the Amplified Channel 198 went blank.?