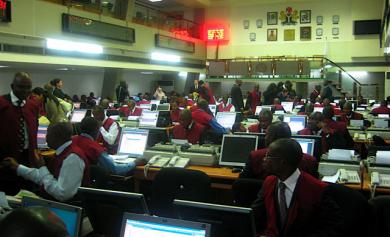 Following the takeover of the three banks; Afribank, Bank PHB and Spring Bank by the Federal Government, trading activities on the floor of the Nigerian Stock Exchange (NSE) yesterday witnessed a heavy run on the shares of listed equities leading to most capitalised stocks shedding a maximum of five per cent, as the action stir-up panic on investors.
Consequently, nine firms which included Skye Bank, Honeywell, Access, Guinness shed maximum of five per cent, to close at N5.89, N3.80, N6.27, and N228.00 per share respectively.
Julius Berger, United Bank for Africa, Vitafoam, Conoil and Ashaka Cement also shed five per cent to close at N47.50, N4.75, N5.70, N34.21 and N20.54 per share.
Guaranty Trust Bank and Oando also dropped 4.98 percent to close at N12.59 and N35.51 per share respectively.
Market analysts confirmed that the massive drop in indices was due to the three banks that were suspended, while anticipating that the bears would sustain its grip on the market until the coast is clear on the other rescued banks.
Speaking on the impact of the action on the capital market, the Managing Director, Cowry Asset Management Limited, Mr. Johnson Chukwu, said investors might want to avoid the shares of other rescued banks until they conclusively consumate their merger arrangements.
"We may therefore see further depression in the market indices, even as the Nigerian Stock Exchange is expected to place the shares of the three affected banks on full suspension," he said. ?