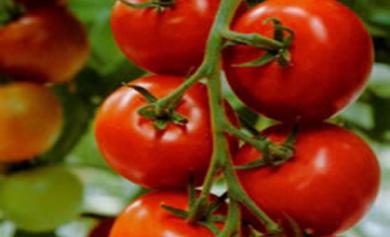 The federal government and Kano State government are set to boost tomato paste production in Nigeria.
The Minister of Agriculture and Rural Development, Dr. Akinwumi Adesina, disclosed this in Abuja when he received Kano State Commissioner of Agriculture and Natural Resources, Dr. Baraka Sani in his office.
Adesina recalled the period when the Kadawa River Valley in Kano State was producing about 640,000 metric tones of tomato as against the current production rate of 260,000 metric tones.
He noted that with value addition, the current production rate could be enhanced significantly to produce enough tomato paste which could be processed, packaged and stored for local consumption and export.
To this end, the minister explained that the federal government would complement the efforts of the Kano State government in leverage on the private sector to actively invest in the value chain so as to set up a world-class tomato paste production plant in Kano to stem massive importation of tomato paste.
He also reiterated his administration's resolve to support women in agriculture as they constitute the largest percentage of farm labourers in the country, adding that empowering them means an improvement in household nutrition, education and general welfare.
In her remark, Sani told the minister that Kano State government was gravely concerned over the influx of refugees from neighbouring states who continue to stretch the decreasing resources of the state especially food supplies, hence the resolve of the state government to encourage and support an all-year round agricultural activity throughout the state.
To this end, she said Kano state government was already partnering with the International Institute for Tropical Agriculture (IITA) and the International Crops Research Institute for the Semi-Arid Tropics (ICRISAT) to develop the irrigation infrastructure in the state to support irrigation farming.
The commissioner added that women in agriculture in the state were actively engaged in rice production, poultry, fisheries, and horticulture without value addition and needs to be fully supported to ensure food security and improved livelihoods.
?