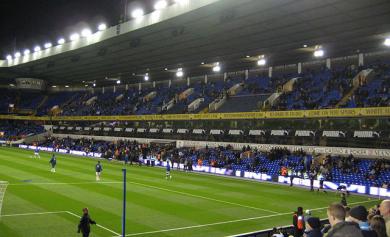 Tottenham's Premier League match with Everton tomorrow has been postponed because of the riots in London.
Civil unrest in and around Tottenham began last weekend and quickly spread to other areas of the capital and major cities across England.
Premier League chief executive, Richard Scudamore said he was "positive" the other nine games in the opening round of top-flight fixtures would go ahead.
"The very latest situation is that Tottenham and Everton has gone.
"The police have done a fantastic job, but it's been a crime scene all week and the council have not had enough time to do what they need.
"The other nine fixtures are looking positive, subject to any more trouble. The Tottenham game is a real shame but we support the police in what they are doing.
"They want these games to go on as much as we do."
Tottenham released a statement on their official website explaining that the match had been postponed "due to safety concerns relating to the infrastructure of the High Road and access to the stadium caused by last Saturday's riots."
Everton captain Phil Neville wrote on Twitter: "Just heard games off although I'm gutted its the right decision in the circumstances!
"I'm in depression now trained for 6 weeks for Saturday's game. I know it's 100% the right decision but I'm going to sulk all day!!!"
Neville's Everton team-mate Louis Saha tweeted: "Game Off vs Spurs. Surely for a very good reason. Hope the ones who suffered from the warzone will recover quick. My prayers are with them."
The riots first flared on Saturday after a peaceful protest in Tottenham over the fatal shooting of Mark Duggan, 29, by police.
They soon spread across London and then to other parts of the country, forcing police to call off England's friendly against the Netherlands at Wembley on Wednesday.
A planned friendly between Nigeria and Ghana at Watford FC on Tuesday was also cancelled as a precaution because of "potential demands on Hertfordshire Constabulary", the force said.
?