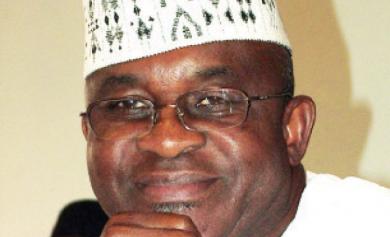 Nigerian contingent to the 10th All Africa Games holding in Maputo, Mozambique, between September 3 and 10, have been promised cash reward of N50,000 per gold medal won by any Nigerian athlete.
Senate President, Senator David Mark promised to reward each gold medal won by Team Nigeria athletes with N50,000. The Senate President was at the Nnamdi Azikiwe International Airport, Abuja, Saturday to give the athletes message of hope and motivation before they left for Maputo, Mozambique at the weekend.
"It is possible for all Nigerian athletes going for the games to win gold," Senator Mark said.
"I want that to be the driving force as everybody must win something but we don't want bronze. Now that I have come to see you off, I want you to know that the entire Nigerian populace is behind you. We will pray for you and back you up with everything we can. From the Nigerian Senate, I want to pledge that every gold won by Team Nigeria will be rewarded with N50,000. If an athlete wins three gold he earns N150,000. You should all be proud to represent Nigeria. Home is home. There is no place like home, sweet home. Those who chose to represent other countries may have done so in error because there is no country in the world as sweet as Nigeria."
The Senator promised to talk to the athletes on phone as soon as possible assuring them of coming to Maputo to cheer them up after the first week. He said: "I will personally talk to you on phone and also come to Maputo to cheer you up as the games progresses. I love the 100m race and I have to watch the final. I hope we will have three Nigerians in the final."
The Senate president told journalists at the airport that Nigeria has the potential to rank among the best in the world revealing that one of the players in his football team in Benue State has been on the radar of English Premier League giants Arsenal in the last six months. "I love sports and that is why I spend so much to put a football team together in my place. One of the players is about to join Arsenal now. They have come for him several times and I think the deal is almost through."
Senator Mark also said that the Senate would do everything possible to assist the National Sports Commission in preparation for the London 2012 Olympic Games.