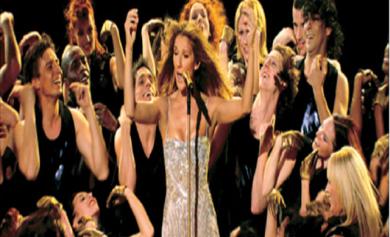 Céline Marie Claudette Dion, was born March 30, 1968 in Canada. As a Canadian recording artiste and entrepreneur from a large family of Charlemagne in Quebec, Celine emerged as a teen star in the French-speaking world after her manager and future husband, René Angélil mortgaged his home to finance her first record. In 1990, she released the English-language album; Unison', establishing herself as a viable pop artiste in North America and other English-speaking areas of the world.
Rising from humble beginnings in the small town of Charlemagne, Quebec, Celine Dion became one of the biggest international star in pop music history, selling more than 100 million albums worldwide. The youngest in Adhemar and Therese Dion's family of 14 children, Celine grew up in an environment full of the inherent chaos and material austerity that comes with such a large working-class family. However, the Dion household was also one filled with love for children and music, and her parents and siblings were important figures in the early development of her singing career.
Celine began singing in her parents' piano bar when she was just five years old, by the age of 12, she had written one of her first songs, 'Ce N'etait Qu'un Rêve' (It Was Only a Dream), which she recorded with the help of her mother and brother and shipped off to a manager named René Angélil, whose name they found on the back of an album by Ginette Reno, a popular Francophone singer. After weeks with no response from Angélil, Celine's brother Michel phoned him and said, 'I know you haven't listened to the tape because if you had, you would've called right away. ' Angélil dug up the tape and called the family back the same day to set up a meeting with Celine.
When the 12-year-old performed in his office in Montreal, Angélil cried and set in motion the process of making her a québécois and later, an international star. He mortgaged his house to pay for her first two albums, producing a local number one single. In 1983 she became the first Canadian to have a gold record in France and she won a gold medal at the Yamaha songwriting competition in Japan. Her worldwide reputation was in the making but success in the United States was not yet forthcoming.
When she was 18, Celine saw Michael Jackson performing on television and told Angélil that she wanted to be a star like him. Angélil's response was to order her to take 18 months off to remake her image. Celine underwent a physical transformation, cutting her hair, plucking her eyebrows and having her teeth capped to cover up the incisors that had caused a Quebec humor magazine to dub her "Canine Dion." She was also sent off to English school to polish the language that would help her to break into the American market.
When she emerged from this process, she had made an amazing transformation from teen star to adult chanteuse. The payoff came almost immediately. Her 1990 breakthrough album, 'Unison', was released in the U.S. by Epic Records and produced several hit songs but it was her duet with Peabo Bryson on the theme song of Disney's 'Beauty and the Beast' that was her true breakthrough.
In 1999, her husband Angélil was diagnosed with throat cancer and while the disease responded well to treatment and went into remission, the illness was a wake-up call for Celine, who decided to put a new emphasis on her family life and announced a temporary retirement so that she could spend more time at home and have a child. After undergoing fertility treatments, she gave birth to a son in January 2001. 'The Collector's Series', Vol. 1 was released during Celine's hiatus; it featured many of her best-loved songs, as well as a Spanish-language version of 'All by Myself.'
Celine returned to the public eye in a big way in March 2002 with, 'A New Day Has Come'. The album debuted at number one in over 17 countries and was accompanied by a full-scale media blitz. But Celine's greatest challenge was yet to come. Despite millions of albums sold, the adoration of fans worldwide, and the validation of her peers, Celine's success was still hampered by image problems that had dogged her since the days of 'Canine Dion.' Many Americans adored her just as many snickered at her québécois heritage and the relative the unorthodoxy of her marriage.
In November 2007 Celine released the English-language 'Taking Chances' and announced a tour of South Africa and Europe scheduled for 2008. She released the CD/DVD 'Taking Chances World Tour: The Concert, as well as the documentary DVD, 'Celine: Through the Eyes of the World.'
Awards
Céline Dion has received numerous awards and accolades in recognition of her worldwide success in the music industry: 5 Grammy Awards, 12 World Music Awards, 7 American Music Awards, 7 Billboard Music Awards, 21 Juno Awards, 39 Félix Awards.
In addition, songs performed by Celine received Academy Awards and Golden Globe Awards, which were presented to the songwriters. The first song performed by Céline Dion that won both awards was 'Beauty and the Beast'. Later, her song 'My Heart Will Go On' won the Golden Globe and the Academy Award for best original song. In 1999, another song performed by Celine, 'The Prayer', won the Golden Globe Award for Best Original Song and was nominated for the Academy Award for Best Original Song. 'Because You Loved Me' was also nominated for both awards.