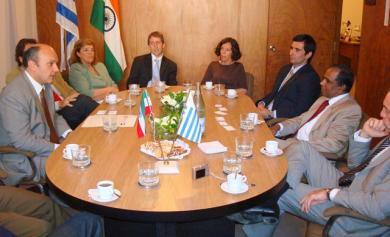 An Indian business delegation is to visit Nigeria and Ghana as part of an African tour in order to tap into the continent's growing IT market which it said was headed for growth this year with market levels expected to reach $26.53 billion.
The delegation is due in Nigeria from September 15 to 22, 2011 as part of the group's Global Trade Development Initiative(GTDI) to explore new geographies for its members.
A statement made available to newsmen said the delegation would also visit Kenya which, it said, has the most aggressive ICT economy in East Africa with the government being proactive and willing to invest in the sector.
"Nigeria is the second biggest economy in Africa and is the largest in terms of its population and opportunity," the statement said, adding that "Ghana offers the most suitable investment climate in the region and is often referred to as the Gateway to West Africa. This delegation would give ample exposure and flavour of the entire African continent."
The statement said that the delegation would be led by the group chief executive officer of Bharti Enterprises and director of Global Innovation and IT, Airtel, Jai Menon, and the managing director, Eastern Software Systems,Anil Bakht.
The statement said that the emphasis of the delegation would be on creating awareness among the local companies about India, identifying potential companies for partnership and building a long-term engagement programme in the areas of trade as well.
"Over the past few years, Africa has been one of the faster growing markets worldwide in ICT adoption and communication technology and has the potential of becoming one of the most important markets for the Indian IT industry. The liberalisation of Africa continues and most countries have established regulatory bodies to ensure a f-air, competitive and enabling environment.
"The delegation is also counting on a $5billion credit line for Africa signed by Prime Minister Manmohan Singh, to expand trade with Africa, as offering more opportunities for its members,"it said.
?