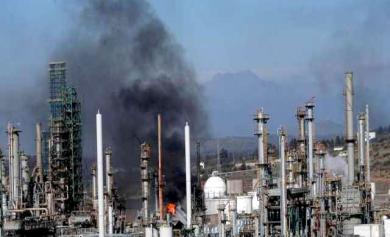 The Fluid Catalytic Cracking (FCC) unit of the Kaduna Refinery has been shut down temporarily for repairs following some faults in the system.
The unit is the most important conversion process used in petroleum refineries which convert high-boiling and high-molecular-weight hydrocarbon fractions of petroleum crude oil to petrol, diesel and other products.
Investigations by LEADERSHIP on Tuesday showed that activities at that unit of the plant had come to a standstill, while only a few workers turned up for work.
The group general manager, public affairs of the Nigerian National Petroleum Corporation (NNPC), Dr. Levi Ajuonuma, has confirmed the report.
He said that, for the first time in 15 years, the NNPC was able to put the FCC unit of the refinery in its full operation.
He stated: "The FCC has not been running and, for the first time in 15 years, we have been able to bring it on stream. This means that the efficiency of the refinery is going to be at its peak.
"After the long period in which it was not used, it is normal that some of the pipes might have rusted and they were found out when the unit was turned on.
"If you park a car for 15 years and you go to start it, you will discover that some of the parts would have rusted and needed minor repairs. That is exactly what we are doing now.
"Immediately we fix the few leakages and replace some of the rusted parts, the unit will be turned on and the refinery will operate at peak level.
"The good news is that the FCC has been put in order, but, in the process of running it, it was found that some of the pipes were rusted and we are working on them."