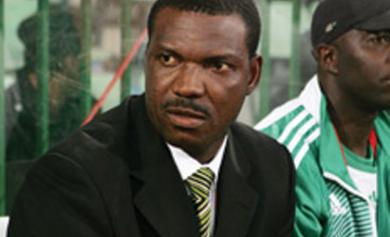 National U-23 coach, Austin Eguavoen will tomorrow defend his Olympic games qualifying programme before the Barrister Chris Green-led technical committee of the Nigeria Football Federation.
Eguavoen, who is presently undergoing the ritual of becoming a chief in the Bini Kingdom said he has been excused to attend the meeting.
"I will be there tomorrow, because there is a lot I need to explain to the committee on how I intend to run myprogramme" he said.
"You know this qualifying series is more of a championship and we are leaving nothing to chance in ensuring that we pick a ticket to London 2012" the former Enyimba of Aba gaffer added.
Coach Austin Eguavoen had in July, submitted his qualifying programme to the Football Federation with a plan to commence camping from the home front with players from the Nigeria league.
According to the Media Officer of the team, Arafat Aliu, the Technical crew had proposed a five week camping period of two phases with the first phase being at home before a possible one month intensive training tour of Europe.
"Plans are on to have the team camped in either Portugal or Turkey; this is one of the decision the Federations technical committee will consider tomorrow" Arafat said.
He added that there are also plans to arrange friendly matches for the team in the next two FIFA free windows. "The Federation says it intends to give the team exposure since 75% of the players are now based in Europe and as such plans are on to have the Dream Team V engage a yet to be named team in the FIFA free window of October which is the weekend of October 8-10th."
"The idea which has been welcomed by most of the foreign based players is also to create a relationship with clubs so as to ensure prompt release of players in the future" he explained.
Eight teams will participate in the elimination tournament to be held in Egypt from November 26 to December 10.
The qualified teams are hosts Egypt, Algeria, Cote d'Ivoire, Gabon, Morocco, Nigeria, Senegal and South Africa.