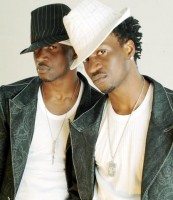 P-Square, arguably Africa's most popular and biggest act, are a Nigerian R&B duo composed of identical twin brothers Peter and Paul Okoye.
The story of P-Square began in St. Murumba secondary school, a small Catholic school in Jos, Nigeria. Identical twins Peter and Paul joined their school music and drama club where they began singing, dancing, and miming songs by MC Hammer, Bobby Brown and Michael Jackson.
They later formed an acappella quartet called "MMMPP" (M Clef a.k.a Itemoh, Michael, Melvin, Peter and Paul). Drawing inspiration from their music idol Michael Jackson, they began break dancing, formed the group called "Smooth Criminals" in 1997. They droped M Clef from the group "MMMPP" which later was changed to "MMPP".
Their artistic talent and precise dance routine soon made them household names in the city of Jos, where they performed at school functions and other occasions.
Later in 1999, Peter and Paul returned to music school to develop their skills on keyboard, drums, bass and rhythm guitar. Their work includes the soundtracks for a number of films like Tobi, Mama Sunday, Moment of Bitterness and Evas River.
Later in 1999, they applied to the University of Abuja to study Business Administration. The Smooth Criminals disbanded when its members left to various other universities.
Subsequently Peter and Paul formed their own group, variously called "Double P", "P&P", and "Da Pees", until they eventually settled on "P Square". They are managed by Bayo Odusami aka Howie T, a seasoned concert promoter and the CEO of Adrot Nigeria Limited.
In 2001, "P-Square" won the "Grab Da Mic" competition, and hence Benson & Hedges sponsored their debut album, titled Last Nite, which was released under Timbuk2 music label.
P-Square was also nominated as "Most Promising African Group" in the Kora Awards three months after the release of their debut album. They eventually won the 2003 Amen Award for "Best R&B Group".
In 2005, P Square released their second album, Get Squared under their own label, Square Records. This album was marketed nationwide by TJoe Enterprises, although they were still managed by Howie T of Adrot Nigeria Limited. The video for the second album held the #1 position on the MTV Base chart for four straight weeks.
They have an ever growing fan base across South Africa with a particular stronghold of die-hard fans in Cape Town.
The group has performed alongside the following international artists like Ginuwine, Sean Paul, Akon and Busola Keshiro. The members of P Square are now located in Lagos.
Late in 2007, they released their best selling album so far, Game Over. It has sold 8 million copies worldwide.
In 2009, P-Square released their fourth studio album, Danger. The album features collaborations with 2face Idibia, J Martins and Frenzy and in August 2011 released released their fifth album, The Invasion.
Contact P-Square:  jude@northsidegroup.net
Management: Jude Engees Okoye is the elder brother, video director and artiste manager of P-Square.
Website: http://mypsquare.com
Become a Friend of PETER on Facebook and as well follow him on Twitter
Become a friend of PAUL on Facebook and as well follow him on Twitter