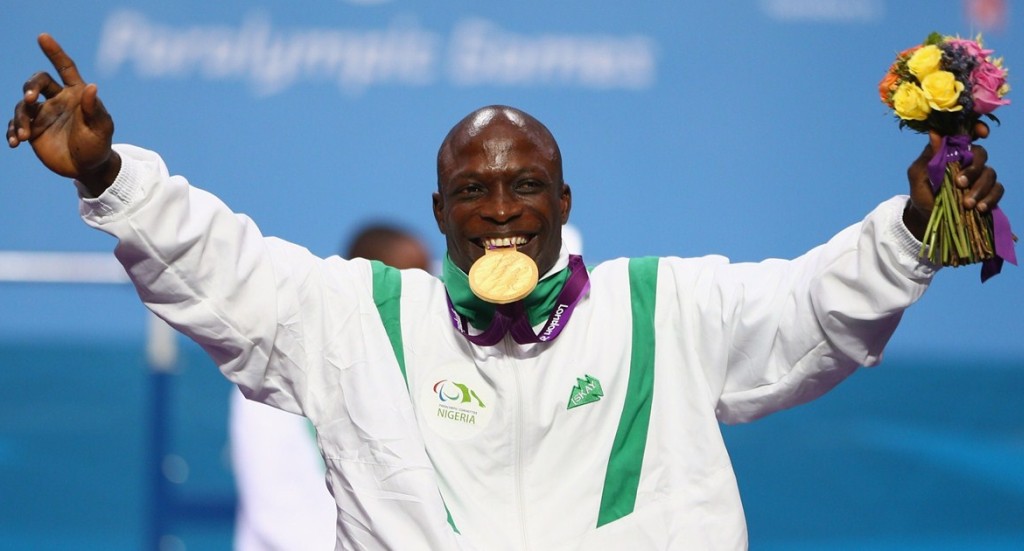 Yakubu Adesokan of Nigeria this afternoon bettered his World Record set in qualifying to take the first Powerlifting gold of the London 2012 Paralympics Games in the Men's 48kg with a lift of 180kg.
Vladimir Balynetc of Russia lifted 170kg for Silver and Taha Abdelmagid of Egypt settled for the bronze medal with a lift of 165kg.
Adesokan, the world number one ranked lifter, came to London as the pre-event favourite after lifting a world record weight of 177kg at the Fazza International Powerlifting Competition in Dubai, United Arab Emirates earlier this year.
The 33-year-old lived up to his reputation this afternoon as he broke countryman Ruel Ishaku's Paralympic record of 169kg from Beijing 2008 by three kilos in his first lift.
The Ibadan-born athlete did not stop there as, roared on by the crowd, he broke his own world record with a lift of 178kg in just his second attempt.
That record only lasted a matter of minutes, though, as Adesokan went on to lift 180kg – almost four times his own bodyweight – to take gold in style.
"I feel overjoyed,' he said. 'I went through a lot of training. I have been training for two months in Korea.
"Once I went through that training, there was no way I was going to fail.
"I can definitely lift more. It is a lot but what I usually lift in training is more than this, like 192kg."
Adesokan also won a gold medal at the 2010 Commonwealth Games in Delhi, India.