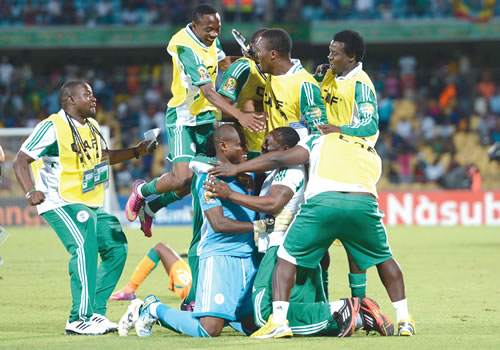 Mali captain Seydou Keita on Monday hit back at those who say his side will face an uphill battle against Nigeria on Wednesday in the 2013 Africa Cup of Nations semi-finals because the Super Eagles coach Stephen Keshi has a good knowledge of the team having managed it for two years.
The former Barcelona midfielder said the outfit had changed since the Nigerian coach left in the wake of their debacle at the Angola 2010, and may have lost all the secrets of the team.
"People keep saying that Nigeria will beat us on Wednesday because their coach Stephen Keshi knows the in and out of Mali team having coached us in the past, but that is not true," Keita said.
"We've had three coaches after Keshi's departure and that should tell you a lot of transformation has taken place. Keshi, with all the respect I have for him, will meet a different team today and not what he left behind. So tell him we have changed.
The Malian Eagles finished third in the previous Afcon edition under French coach Alain Giresse, and brought their peculiarity of knocking out host nations to the ongoing tournament where they defeated South Africa on penalties like they did to Gabon last year.
The 33-year-old, who now plays for Chinese side Dalian Aerbin, believes they could have an edge if Wednesday's clash runs into penalties.
"I'm not saying we are the best penalty shooters, but we kind of have some luck in the exercise recently and we hope this will follow us, especially at these times when our people back home need joy and relief from the ongoing war," he said.
If ever a man had the right to feel smug it was Nigeria coach Stephen Keshi after his heavily-criticised Super Eagles team's stunning Africa Cup of Nations win over Ivory Coast. Keshi's mix of experienced stars and local-based players not only made it into the semi-finals after failing to qualify last year, but they did it the hard way by toppling the competition favourites.
And to top a memorable night in Rustenburg the show stealer was not a Premier League star like Chelsea duo Victor Moses or John Obi Mikel, but Sunday Mba, who plies his trade in the Nigerian league. Mba's dazzling run and 20-yard shot, with a little help from a deflection, settled the issue 2-1 in Nigeria's favour after Ivorian Cheik Tiote had cancelled out Emmanuel Emenike's opener. He couldn't have picked a better moment to open his international account and secure a semi-final showdown with Mali in Durban later today.
The unheralded 24-year old Enugu Rangers midfielder's performance won him the man of the match award, with Keshi singing his and the other home-grown players' praises at the post-match press conference. "I want to kiss him! "Everyone of my boys is a hero, a Hollywood star, but it just happened that a home-based player, Sunday, scored a beautiful, beautiful goal.
"It's good to see local players come through — if you give them the opportunity they can do it. "It's a pity that in the kind of country I come from they are impatient with local-based players, they prefer professionals," said the man who captained the 1994 title-winning side. Mba was not the only supposed lesser light in the Super Eagles squad to shine in Rustenburg – Godfrey Oboabona of Sunshine Stars put up a manful display in defence.
Oboabona was called up for injured veteran captain Joseph Yobo, and succeeded in blunting the danger presented by Didier Drogba and Arsenal striker Gervinho. "It was great to stop a player like Drogba in a game of such magnitude. I am proud that we did not allow him to play and, at a time, he was frozen out of the game," he told mtnfootball.com
?