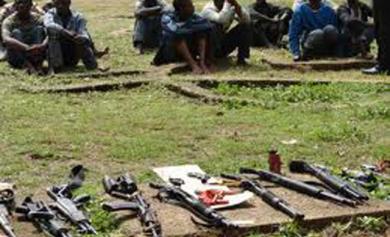 Police in Nasarawa State, yesterday, paraded another 28 Fulanis suspected of planning to wreck another havoc in some parts of Doma communities, in Doma Local Government Area of the state. This was just as the command also paraded a 50 -year old man, Abdullahi Idris, alleged to have stolen 12 l goats from the houses of the displaced persons in the area.
Parading the suspects at the state Criminal Investigation Department (CID) office, the state Police Public Relations Officer (PPRO), DSP Michael Ada, said that efforts to apprehend the culprits were not unconnected with the directive of the state Commissioner of Police, Mr. Abayomi Akeremale to ensure that those behind various annihilations in the state were brought to book.
According to him, when the police patrol team in Doma targeted three vehicles because of the manner the passengers were behaving.
When the driver sighted the police, he attempted to reverse.
"The police were able to arrest them and when these three vehicles were searched, it was discovered that they were ethnic militants being mobilised from different parts of the state to enter Doma and cause havoc.
The police recovered 23 cutlasses and other dangerous weapons. The suspects have been transferred to state CID for further investigation and after the investigations, we will charge them to court," he added.