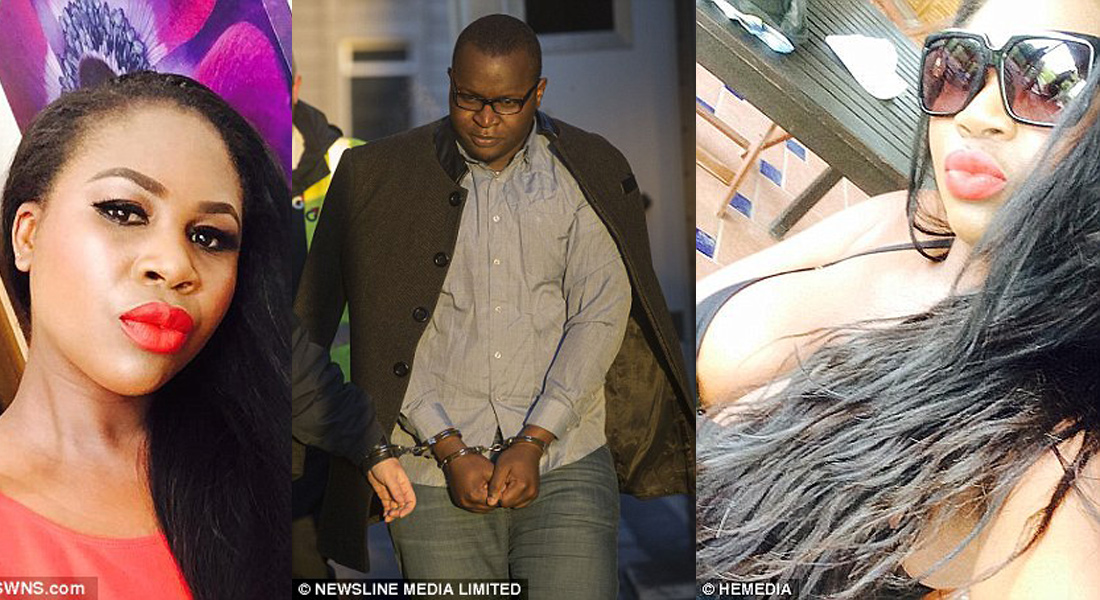 A Nigerian student Bala Chinda to spend a life sentence in prison for killing British high-class prostitute Jessica McGraa in Aberdeen, Scotland on February 11, 2016.
Bala Chinda, whose father works as the immigration attaché at the Nigerian embassy in Beijing, China, was studying at Robert Gordon University in Aberdeen at the time.
Mrs McGraa's partially clothed body was found the following day (February 12) in the bedroom of a flat she had rented in the city's Union Terrace.
Chinda, 26, was sentenced to live in jail for the killing of the 37-year-old £200-an-hour sex worker at the Crown Court on Friday January 20, 2017.
Mrs McGraa moved to the UK from Nigeria 11 years ago after meeting an English oil worker, Gareth McGraa, who had been working in the Niger Delta. They married and had a son but later split.
During the trial the court heard that Mrs McGraa's seven-year-old son lived in London with fellow Nigerian Bimbo Oluawe, 50, who she had adopted as her mother. She visited her son once a month and took him on luxury holidays.
Her double life as an escort was only exposed to her closest friends after her sudden death, with many believing she travelled round the country selling hair extensions.
Instead, she travelled across the country renting city apartments for a few days where she would spend time with her clients. Her services were advertised online with her contact number so clients could get in touch with her.
She was dating 21-year-old student Peter Dignam, whom she met in Belfast and who was surprised to find out after her death that he had been seeing an escort.
Friends also expressed their shock at discovering the mother was working as a prostitute. One said: 'I thought she was a dancer in clubs – I had no idea what was really going on. But it doesn't change my opinion of her.'
Double life
Mrs McGraa, who offered the 'ultimate girlfriend experience', boasted online of taking regular holidays around the world and promoted her services under the names Ebony Bianca, Kelly West and B Bianca.
According to the Adult Work website, she charged up to £1,800-a-night and took bookings from men, women and couples and was currently 'on tour' around the UK.
She described herself as 'classic, stylish, naughty, horny, sexy'. The site has topless photos of her with her face blurred out.
She wrote: 'My face is covered to protect myself as I'm ultra-discreet. I have my regular job and a private life. Do be polite when you call me.'
According to the Daily Mail reports: Extensive police investigations carefully pieced together the call girl's last movements following the grim discovery on February 12, 2016.
CCTV footage showed she had travelled to Chinda's student accommodation in the city's King Street with him in a taxi before they returned to her apartment a short time later.
Mrs McGraa, also Nigerian, made her last call on her mobile phone a few minutes before surveillance cameras recorded Bala Chinda, walking down the street away from her flat.
The judgement
Judge Lord Beckett told the jury they had gone about their duties commendably after listening to evidence they may have found 'very distressing'.
Jailing Chinda, he told the killer he had ended the life of a woman described by friends giving evidence as 'full of fun' and who had much left to live for.
Chinda was told he must serve a minimum of 18 years.
The court heard that Mrs McGraa died of asphyxiation and was probably smothered with a pillow and possibly strangled with her scarf.
The taxi driver taking Chinda and Mrs McGraa back to her apartment had heard the two discussing money before she was killed on February 11.
(Photo credits: Daily Mail UK)