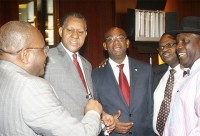 Acting President Goodluck Jonathan has barred all ministers of the just dissolved executive council of the federation from travelling out of the country in the next one month.
The restriction is to ensure that the ex-ministers would be available to provide answers to possible questions concerning their ministries as the nation awaits appointment of new ministers. Consequently, the ex-ministers have been told to make their movements within the country known to appropriate authorities and no ex-minister must travel outside the country within the period.
Presidency sources said the decision to bar the ministers from travelling out of the country was not unconnected with petitions that had started flooding the Presidential villa over the sins committed by many of the ministers while in office, particularly as it concerned contract inflation, money laundering, misappropriation of funds and other unimaginable deeds.
As a result, the source said that the federal government panel inaugurated by Acting President Jonathan last month, has been given the go-ahead to move into the ministries now that there are no stumbling blocks to examine the petitions so far received, adding that from all indications, some of the ministers may be made to face anti-corruption charges if found wanting.
It was gathered that some ministers, particularly those said to have been directly in charge of Power, Agriculture, Aviation and Water and Petroleum Resources, are said to be on the front list because of the volume of petitions regarding their conduct while at the helm of affairs of the ministries.
It was further gathered that security agencies, especially those saddled with security at the various exit outlets of the nation, have been intimated of the federal government directive and urged them to 'politely turn back' any of such minister that may claim ignorance and wanted to travel.