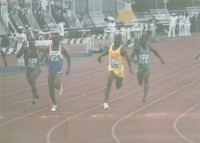 No fewer than 12 states will participate in the Olympic Day celebration to be marked nationwide on July 3, the Nigeria Olympic Committee (NOC) has said.
Austin Odigie, the Logistics Officer of the Olympic Day Project in the NOC, told the News Agency of Nigeria (NAN) on Friday in Enugu that more states were expected to join.
The 12 states are Lagos, Bayelsa, Ondo, Plateau, Niger, Akwa Ibom , Imo, Anambra, Edo, Ekiti, Rivers and Delta.
Odigie, however, noted that it was sad that a state such as Enugu, which was among the first to indicate interest, could pull out of the celebration.
"This is sad for a state that ought to be in the forefront of the celebration, being a state that has produced top Olympic athletes."
Matthew Idu, the Enugu State Commissioner for Sports, however, told NAN that he had not completely ruled out the state as he was still making efforts to get the government to back its participation.
"We want to keep the Olympic dream alive," Idu said.
The state only needed to settle the mandatory N40,000 approval fee with the NOC to take part, committee officials said.
The Public Relations Officer of the NOC, Tony Nezianya, said states in the South-East needed to use sports as a vehicle to promote the values of Olympism among their youths.
"The Spirit of Olympism can help to combat the scourge of kidnapping which is fast eroding social values among the youth of the zone," Nezianya said.
He added that no fewer than 100,000 participants from various states of the federation would take part in the celebration.
The NOC, under the auspices of the International Olympic Committee (IOC), has a programme to accommodate the states and the Federal Capital Territory in the event.
Already, all the commissioners and directors responsible for sports have been sensitised to ensure that their states take part in the celebration, according to Nezianya.
The Olympic Day was initiated in 1987 by the IOC to commemorate the founding of the Olympic Movement under the leadership of "Mr Olympics", Frenchman Baron Pierre De Coubert, on June 23, 1894.
The event is aimed at everyone, whatever his or her sporting ability, to practise a sport, run or do an exercise.
The Olympic Day is an ideal platform for highlighting the benefits of physical activity in general, particularly for young people, thus allowing them to learn about Olympic values and put them into practice in their everyday life.
The Olympic Day will be broken down in stages of 3 km, 6 km and 10 km to accommodate various age groups. (NAN)